Penny's Cottage, Walberswick
4 Guests maximum inc kids over 7 only. Check AVAILABILITY button at the top of this page for dates. Confirmation upon receipt of the Rental Agreement and Deposit. Situated next door to the 600 year old Bell Inn. Dogs NOT Accepted
View pictures of Penny's Cottage.
3 night Short Stays available from 13th Oct 2019-11th April 2020 only (except School Holiday,s) £109 for a couple per night, plus £59 per night for an additional couple. One week stays begin on Saturday. No Sunday Arrivals due to staff day off. Arrivals time 2.00pm departure time 10.00am.
The open plan Living/ Dining area has 2 two-seater sofas. There is a great collection of books, dvds and board games for a rainy day and a 40" Smart HD TV.DVD player,cinema sound via the
HI-FI system .
The Kitchen, which has a sea view,is equipped with 2 fridges dishwasher, washing machine, microwave and cooker with gas hob and electric oven,s and grill.
A Cloakroom and Hall, separates the Garden Bedroom from the Kitchen area.
The Master Bedroom has a lovely view of the garden from the comfort of your Kingsize bed and a large wardrobe and Hi-Fi
The bed is accessed on one side only due to the room configuration.
The 1st. Fl Bedroom has Twin beds and a large built in wardrobe.
55" Smart TV and Cinema sound with DVD, X Box 360 and games.
The upstairs Bathroom has a shower/bath.
One bath towel and hand towel are provided per guest
(Towels are not suitable for beach use)
High Speed Internet and incoming calls facility.
For your safety a SpinDryer is not provided, there is a clothes line in the garden and also drying rack to dry clothes overnight in the Kitchen .
As the stairs are quite narrow and winding this makes the cottage unsuitable for Children under 6 years old or the infirm.
The enclosed 30x5 m rear garden includes a dining area for four, accesible directly from the Garden Bedroom or from the Kitchen for alfresco summer dining, there is also a 2 seater sofa to catch the evening sun. A Boules court, which may be used by customers of The Bell Inn is located next door. A right of way exists along the side and rear of the cottage to our neighbours properties at Brisbane and Half-Pennies for Bin Collection, Garden Maintenance etc.
Bins are collected early on Monday mornings.
The Cottage is heated by electric heating system ,the "fire" in the Living room is also electric and does NOT use solid fuel .

Pennys Cottage is compliant with
The Regulatory Reform (Fire Safety) Order 2005 and
The Electrical Installation BS7671:2008

HOW TO MAKE A BOOKING


Please check the Availability button at the top of this page for your preferred available holiday dates .
When you have found your preferred dates, please check the
Booking Conditionsand e-mail the
Rental Agreement to

Walberswick,.. ..,Joyeverley.co.uk

.
A deposit of £250 is required to cover loss or damage, details are as shown in our Terms & Conditions. This may be paid by a Credit or Debit Card which must be valid for at least 1 month after your departure date.
To make this payment, please call the office on 0207 2872 792 between 10:30am -1:00pm and 2:00pm - 5:30pm Mon. to Fri.
Please note this deposit is in addition to the Rental payment irrespective of the duration of stay and will be refunded within 14 days of departure, subject to conditions.
The staff at the Office will process your card details, but cannot help with querys re. the Cottage or bookings etc . I will help with any queries by email at

Walberswick,.. ..,Joyeverley.co.uk

The booking can only be secured after both the Rental Contract and Deposit have been received.
For your security, Card details are not stored on our electronic systems and you should never send card details by e-mail or text.
We are data compliant regarding customer card details and are registered with the ISO under the Data Protection Act 1998.
Reg No Z2423417.
The full Rental Payment must be paid 2 months prior to your arrival date. We will forward our Bank details by email upon receipt of the Deposit in order for you to make this payment.
We are unable to offer a refund if you have to cancel the booking within 2 months of your arrival date and advise that you take out Travel Insurance to cover for this possibility,we will try to relet the property if possible in such cases but cannot guarantee this.
Unfortunately we do not accept payments by Cheque or PayPal.
Keys and entry details
Access details will be sent upon receipt of your final payment, by text message to the Mobile no. you have given on the Rental Agreement approximately seven days before your arrival date.
GUESTS HAVE RECENTLY RECOMMENDED:



Black Dog Deli, The Street ,Walberswick


The Cut, Arts Center Halesworth


Sole Bay Fish Company Eatery (afternoons only) Blackshore , Southwold (Ferry crossing from Walberswick ) 01502-724241


The Bell Inn, next door to the Cottage.


Aldeburgh Cinema- an absolute gem! Aldeburgh High St.


Norwich


Contact Anthony G. Blount:
Telephone: email only
Mobile: email only
Enable Javascript To View Email Address
Sat Nav Reference:
IP18 6TN
Map is based on postcode and may be approximate.
Penny's Cottage Availability
February 2020

| S | M | T | W | T | F | S |
| --- | --- | --- | --- | --- | --- | --- |
| | | | | | | 01 |
| 02 | 03 | 04 | 05 | 06 | 07 | 08 |
| 09 | 10 | 11 | 12 | 13 | 14 | 15 |
| 16 | 17 | 18 | 19 | 20 | 21 | 22 |
| 23 | 24 | 25 | 26 | 27 | 28 | 29 |
<<<<
>>>>
NB:

DAY

= This night is booked.
Availability updated: Sunday 9th February 2020
Penny's Cottage Tariff
From
To
Weekly
Break
Sat, 19 Oct 2019
Fri, 01 Nov 2019
£725
N/A
Sat, 02 Nov 2019
Fri, 20 Dec 2019
£599
£325
Sat, 04 Jan 2020
Fri, 14 Feb 2020
£599
£325
Sat, 15 Feb 2020
Fri, 21 Feb 2020
£725
N/A
Sat, 22 Feb 2020
Fri, 03 Apr 2020
£599
£325
Sat, 04 Apr 2020
Fri, 17 Apr 2020
£749
N/A
Sat, 18 Apr 2020
Fri, 01 May 2020
£669
N/A
Sat, 02 May 2020
Sat, 04 Jul 2020
£745
N/A
Sat, 04 Jul 2020
Fri, 28 Aug 2020
£889
N/A
Fri, 28 Aug 2020
Fri, 02 Oct 2020
£745
N/A
Sat, 03 Oct 2020
Sat, 24 Oct 2020
£695
N/A

Off peak period 3rd November 2019 - 4th April 2020, £109 per night except School Christmas, Easter and Half Term Holidays where applicable . The price is based on 2 people sharing, an additional charge of £59 per couple per night for additional guests applies.
MINIMUM SHORT BREAK IS 3 NIGHTS no exceptions
All prices quoted are non-negotiable.
Pennys Cottage is not available for New Years Eve or Latitude Festival as it is in private usage. Christmas booking may be available upon request !
MAX STAY IS 7 NIGHTS
Click / tap an image below to zoom, and view slide–show.
Penny's Cottage Property Summary
Sleeps (maximum): 4
Bedrooms: 2
Beds: 3
On Street Parking












View Icon Key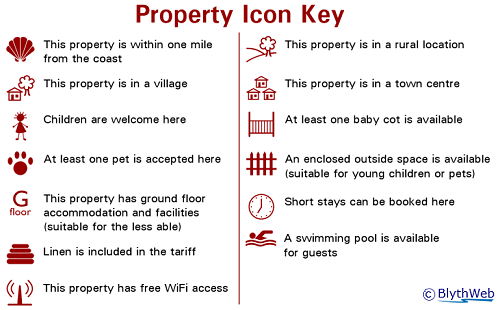 You can view a total of 14 images of Penny's Cottage by tapping an above image and scrolling through the gallery.