Halfpenny Cottage, Walberswick
Walberswick Cottage for 4
(+2 in the eaves),
Very close to the beach and the harbour.
View pictures of Halfpenny Cottage.
The cottage (which sleeps 4 + 2). is ideally located in the heart of the village of Walberswick, close to the beach, river Blyth, 15th Century Bell Inn and Walberswick village green. It is about 200 years old with lots of character and has a completely enclosed rear garden.
Features
The downstairs is open plan with a kitchen, dining and sitting room area with an inglenook feature and beams. There is a closable door at the foot of the stairs and French doors at the back that lead out into the enclosed patio and long garden.
The first floor has two cosy double bedrooms and a bathroom, with bath.
There is a second floor occasional attic room with 2 single beds under the eaves, limited standing and sea views.
There is an electric oven, microwave, fridge with small freezer compartment, CD player/ radio, T.V., DVD player and overnight storage heaters.
One or two well behaved dogs are welcome.
An enclosed winding staircase, which may not be suitable for everyone.
The cottage is non-smoking.
Contact Sally or Doug Hamilton:
Telephone: 01892 545 583
Enable Javascript To View Email Address
Sat Nav Reference:
IP18 6TN
Halfpenny Cottage Tariff
From
To
Weekly
Break
Sat, 20 Jan 2018
Sat, 10 Feb 2018
£380
N/A
Sat, 10 Feb 2018
Sat, 17 Feb 2018
£440
N/A
Sat, 17 Feb 2018
Sat, 24 Mar 2018
£395
N/A
Sat, 24 Mar 2018
Sat, 31 Mar 2018
£440
N/A
Sat, 14 Apr 2018
Sat, 28 Apr 2018
£440
N/A
Sat, 28 Apr 2018
Sat, 19 May 2018
£490
N/A
Sat, 19 May 2018
Sat, 07 Jul 2018
£570
N/A
Sat, 14 Jul 2018
Sat, 04 Aug 2018
£745
N/A
Sat, 11 Aug 2018
Sat, 01 Sep 2018
£745
N/A
Sat, 01 Sep 2018
Sat, 29 Sep 2018
£560
N/A
Sat, 29 Sep 2018
Sat, 13 Oct 2018
£440
N/A
Sat, 13 Oct 2018
Sat, 27 Oct 2018
£465
N/A

Tariff includes bedlinen, heating and electricity.
Saturday to Saturday lets only.
Any other dates not displayed are already booked.
Click / tap an image below to zoom, and view slide–show.
Halfpenny Cottage Property Summary
Sleeps (maximum): 6
Bedrooms: 2
Beds: 2
On Street Parking












View Icon Key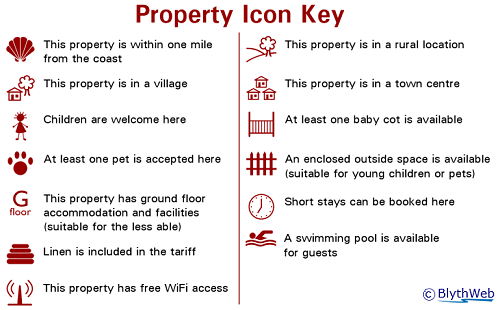 You can view a total of 7 images of Halfpenny Cottage by tapping an above image and scrolling through the gallery.