Masons' Marks at Holy Trinity Church, Blythburgh, Suffolk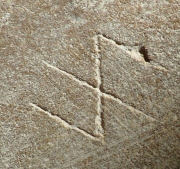 Although they are not mentioned in detail in the present church guide, masons' marks are present throughout the church on every pillar but one. It has been said that until one is shown the marks they are invisible but after being shown them, they are everywhere!
Of the signs used as a manufacturer's signature, owner's mark or trade mark, stonemasons' marks are the ones that have survived in greatest quantities. The simple reason for this is that a sign carved in stone is able to last through the centuries.
Although Strasbourg Cathedral has more than 1500 different signs, Holy Trinity has enough to make their study quite interesting.
The following marks have been collected from the lower parts of the pillars up to the beginnings of the arches. That there are more on the arches themselves, I was able to confirm during an earlier limewashing, when I climbed up on the scaffolding. (Please see Appendix 1 for these marks.)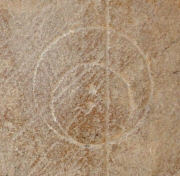 There are, in addition, more marks on the exterior of the great wooden South Door, together with the date 1629 on the lower left panel.. (See Appendix 2 for these marks.) It would appear that families or fellowships of masons used one basic mark with pieces added, to represent the various members of these families or fellowships. (See Appendix 3 for these variations.)
Churches and other important buildings in one locality may have been built by the same masons, since their marks and variations can often be seen in some or all of them . (See Appendix 4 for these churches in Southwold and Walberswick.)
If this brief paper has whetted your appetite, you might like to ponder the Runic, Phoenician and Greek alphabets, which contain letters that the masons used. (See Appendix 5) All of them have been used by masons and some are in Holy Trinity. So good hunting, they are everywhere!
Article By Richard Maslen, Blythburgh.

Bibliography:
Masons' Marks ancient and modern. Myers T.H. 1906
Masons'Marks. Pennick N. Cockayne, Cambridge 1974
Friends of York Minster, 47th Annual Report 1976 p.17
Masons' Marks. Brooks F.W. East Yorkshire Local History Society. 1952
Unpublished theses and studies by local people, York Minster Library. Available on personal request at the Library.

Some Favourite Websites For September 2019:
Michael Bullen – Walberswick based watercolourist and Artist
Watercolours are a moment in time with all the depth, light and simplicity of a haiku and just as elusive. Michael's paintings and prints can be viewed at his Studio overlooking The Market Square in Halesworth.
Golden Light Essences – A Gift of Transformation
Golden Light Essences comprise a range of flower and vibrational essences. These flower essences have been created to help us to understand and transform the negative beliefs we have about ourselves, and our world.
Poachers Cottage – Poacher's Cottage, Halesworth - Charming self-catering accommodation for three (plus cot) with beach hut option
A welcoming and charming one-bedroomed cottage, with space for a cot. Additional single sofa-bed. Highchair available. This cosy cottage is in a Conservation Area in a street of other interesting period cottages, yet countryside walks start opposite the front door. Stroll to the Market Place and the pedestrianised Thoroughfare. Just ten miles to the coast at Southwold where you have the option of renting a beach hut which is in the same ownership.
Green Haven Holidays – Caravan and Camping Site near Halesworth
Stuart and Katherine have enthusiastically established their campsite in the village of Rumburgh just north of Halesworth. From the outset they were keen that this would be an eco-friendly business. Village CAMRA pub close by. Re-opened on 1st May for the 2015 season.
Chris Doyle Photography – Beautiful Photos of local recent horse riding events
View extensive online galleries of recent horse shows, show jumping, cross country and other events as well as galleries of racing dogs and wildlife. Prints are available to order online.