Masons' Marks at Holy Trinity Church, Blythburgh, Suffolk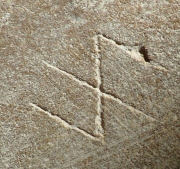 Although they are not mentioned in detail in the present church guide, masons' marks are present throughout the church on every pillar but one. It has been said that until one is shown the marks they are invisible but after being shown them, they are everywhere!
Of the signs used as a manufacturer's signature, owner's mark or trade mark, stonemasons' marks are the ones that have survived in greatest quantities. The simple reason for this is that a sign carved in stone is able to last through the centuries.
Although Strasbourg Cathedral has more than 1500 different signs, Holy Trinity has enough to make their study quite interesting.
The following marks have been collected from the lower parts of the pillars up to the beginnings of the arches. That there are more on the arches themselves, I was able to confirm during an earlier limewashing, when I climbed up on the scaffolding. (Please see Appendix 1 for these marks.)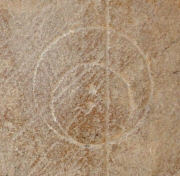 There are, in addition, more marks on the exterior of the great wooden South Door, together with the date 1629 on the lower left panel.. (See Appendix 2 for these marks.) It would appear that families or fellowships of masons used one basic mark with pieces added, to represent the various members of these families or fellowships. (See Appendix 3 for these variations.)
Churches and other important buildings in one locality may have been built by the same masons, since their marks and variations can often be seen in some or all of them . (See Appendix 4 for these churches in Southwold and Walberswick.)
If this brief paper has whetted your appetite, you might like to ponder the Runic, Phoenician and Greek alphabets, which contain letters that the masons used. (See Appendix 5) All of them have been used by masons and some are in Holy Trinity. So good hunting, they are everywhere!
Article By Richard Maslen, Blythburgh.

Bibliography:
Masons' Marks ancient and modern. Myers T.H. 1906
Masons'Marks. Pennick N. Cockayne, Cambridge 1974
Friends of York Minster, 47th Annual Report 1976 p.17
Masons' Marks. Brooks F.W. East Yorkshire Local History Society. 1952
Unpublished theses and studies by local people, York Minster Library. Available on personal request at the Library.

Some Favourite Websites For January 2021:
Andy Seedhouse Boats – Andy Seedhouse Boats, Woodbridge - Boat Sales
A friendly and professional family-run business with an old-fashioned approach to customer service, located on the picturesque waterfront at Woodbridge on the River Deben. From dinghies and day boats to fishing boats and yachts, and even including liveaboard boats too, Andy brings his many years of experience in helping his customers buy and sell. Also chandlery, trailers, etc.
Logs Logs Logs – Family Firm delivering kiln dried logs to Norfolk and Suffolk, including Norwich, Diss and Woodbridge
Logs available in tipper loads and bulk bags for wood burning stoves, open fires and pizza ovens. In addition supplying firewood in bulk bags to Essex, Cambridgeshire, London and beyond.
Janet Talks – Janet Gershlick is a writer and broadcaster with many years experience
Southwold 'A place to love' has almost 200 pages packed with the stories and histories behind the inscriptions on its colourful beach huts, its many benches and on those small brass plaques on Southwold pier. The stories will both delight and inform.
Alan Ross Removals – Alan Ross Removals
A long-established Suffolk-based company with a wealth of experience and offering competitive pricing for removals, haulage and storage. Residential and commercial relocation services offered.
Stoneware Birds – Life-sized handmade and unique British birds, now available to buy online.
A charming unique gift or a treat for oneself. See the website to know how each one is made. Now available to buy online. Each bird is an individual creation, varying in choice from the perky wren to the plump bullfinch together with other well-loved British birds. Which will you choose?