BlythWeb Notes on the Halesworth Airfield War Memorials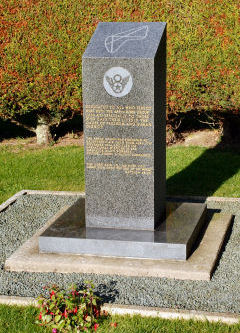 Close to the Halesworth Airfield Museum stand three fine memorials to those American Servicemen who served at Halesworth Airfield during WWII.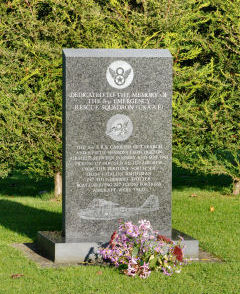 These memorials are thoughtfully sited in beautifully kept bays of grass and gravel, each enclosure hedged and with flagpoles completing the setting. Seats are provided for visitors. Etched into the memorials are depictions of aircraft, squadron badges and the layout of the airfield itself, all skilfully executed.
Operational from 1942 until just after end of the War in 1945, this base was home to brave young men who served the allied forces flying fighters and bombers from the three runways of the airfield.
The memorial to the 56th Fighter Group (Zemke's Wolfpack) [below] carries a plaque commemorating that this Group established a record of combat performance unequalled in US Airforce Fighter history, while the memorial to the 489th Bomb Group records these servicemen who played important parts in the historic events of D-Day in June 1944 [right]. The third memorial is dedicated to the 5th Emergency Rescue Squadron who rescued downed allied aircrew from the North Sea [left].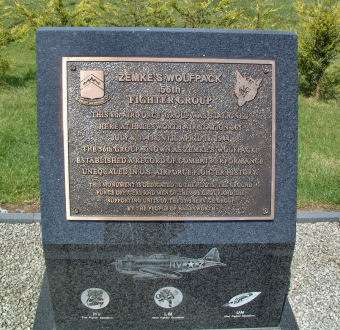 Inscription
The Inscription on the stone reads as follows:

ZEMKE'S WOLFPACK
56th
FIGHTER GROUP
THIS 8th AIR FORCE GROUP WAS STATIONED
HERE AT HALESWORTH AIR STATION 365
JULY 8, 1943 UNTIL APRIL 18, 1944
THE 56th GROUP, KNOWN AS ZEMKE's WOLFPACK,
ESTABLISHED A RECORD OF COMBAT PERFORMANCE
UNEQUALED IN U.S. AIRFORCE FIGHTER HISTORY.

This momument is dedicated to the pilots, the ground
force officers and men of the 56th Group and the
supporting units of the 33rd Service Group
by the people of Halesworth
You can also read our extensive report about the Halesworth Town War Memorial.
Some Favourite Websites For September 2020:
Golden Light Essences – A Gift of Transformation
Golden Light Essences comprise a range of flower and vibrational essences. These flower essences have been created to help us to understand and transform the negative beliefs we have about ourselves, and our world.
Waveney Wholesale – Suppliers of toys, novelties, giftware, china, housewares, pet items, beach goods and so much more
Established Halesworth-based suppliers with over 3000 lines stocked. On-line ordering or call and collect.
PJN Motor Engineering – A long-established garage you can trust, Wenhaston near Halesworth
Repairs, diagnostics, servicing, MOT preparation and submission, welding, valeting and much more. All work done using high quality oils, components and accessories. Member of the Good Garage Scheme.
1 Little Dingle Cottages – Self-catering accommodation for up to twelve people
This country cottage stands between Dunwich Forest and Dingle Marshes. Apart from the adjacent cottage it is quite isolated, being a mile from Dunwich village. Surrounded by open countryside, marshes, reedbeds and forest. Several major nature reserves are close by, with wildlife and birds to be seen on or near the property. Walks from the cottage. Parking. Pets by arrangement.
Woodside Barn – Skilful conversion of a Grade II listed timber-framed barn close to Aldeburgh, for up to Six
Children and well-behaved pets welcome. Downstairs bedroom with wet room. All bedrooms en-suite. WiFi. Outside space.