BlythWeb Notes on the Halesworth Airfield War Memorials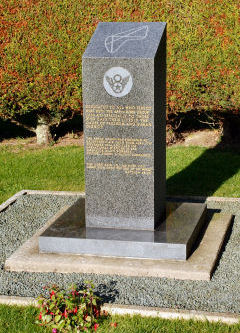 Close to the Halesworth Airfield Museum stand three fine memorials to those American Servicemen who served at Halesworth Airfield during WWII.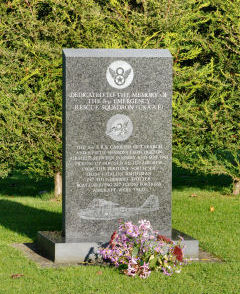 These memorials are thoughtfully sited in beautifully kept bays of grass and gravel, each enclosure hedged and with flagpoles completing the setting. Seats are provided for visitors. Etched into the memorials are depictions of aircraft, squadron badges and the layout of the airfield itself, all skilfully executed.
Operational from 1942 until just after end of the War in 1945, this base was home to brave young men who served the allied forces flying fighters and bombers from the three runways of the airfield.
The memorial to the 56th Fighter Group (Zemke's Wolfpack) [below] carries a plaque commemorating that this Group established a record of combat performance unequalled in US Airforce Fighter history, while the memorial to the 489th Bomb Group records these servicemen who played important parts in the historic events of D-Day in June 1944 [right]. The third memorial is dedicated to the 5th Emergency Rescue Squadron who rescued downed allied aircrew from the North Sea [left].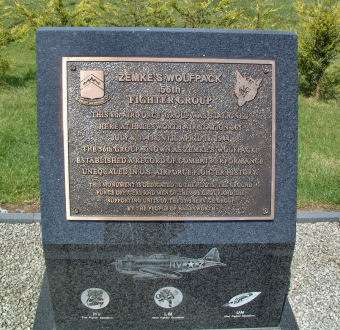 Inscription
The Inscription on the stone reads as follows:

ZEMKE'S WOLFPACK
56th
FIGHTER GROUP
THIS 8th AIR FORCE GROUP WAS STATIONED
HERE AT HALESWORTH AIR STATION 365
JULY 8, 1943 UNTIL APRIL 18, 1944
THE 56th GROUP, KNOWN AS ZEMKE's WOLFPACK,
ESTABLISHED A RECORD OF COMBAT PERFORMANCE
UNEQUALED IN U.S. AIRFORCE FIGHTER HISTORY.

This momument is dedicated to the pilots, the ground
force officers and men of the 56th Group and the
supporting units of the 33rd Service Group
by the people of Halesworth
You can also read our extensive report about the Halesworth Town War Memorial.
Some Favourite Websites For September 2019:
Green Haven Holidays – Caravan and Camping Site near Halesworth
Stuart and Katherine have enthusiastically established their campsite in the village of Rumburgh just north of Halesworth. From the outset they were keen that this would be an eco-friendly business. Village CAMRA pub close by. Re-opened on 1st May for the 2015 season.
Poachers Cottage – Poacher's Cottage, Halesworth - Charming self-catering accommodation for three (plus cot) with beach hut option
A welcoming and charming one-bedroomed cottage, with space for a cot. Additional single sofa-bed. Highchair available. This cosy cottage is in a Conservation Area in a street of other interesting period cottages, yet countryside walks start opposite the front door. Stroll to the Market Place and the pedestrianised Thoroughfare. Just ten miles to the coast at Southwold where you have the option of renting a beach hut which is in the same ownership.
Chris Doyle Photography – Beautiful Photos of local recent horse riding events
View extensive online galleries of recent horse shows, show jumping, cross country and other events as well as galleries of racing dogs and wildlife. Prints are available to order online.
Michael Bullen – Walberswick based watercolourist and Artist
Watercolours are a moment in time with all the depth, light and simplicity of a haiku and just as elusive. Michael's paintings and prints can be viewed at his Studio overlooking The Market Square in Halesworth.
Golden Light Essences – A Gift of Transformation
Golden Light Essences comprise a range of flower and vibrational essences. These flower essences have been created to help us to understand and transform the negative beliefs we have about ourselves, and our world.