BlythWeb Notes on the Halesworth Airfield War Memorials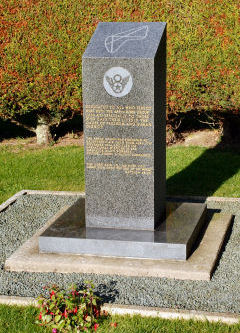 Close to the Halesworth Airfield Museum stand three fine memorials to those American Servicemen who served at Halesworth Airfield during WWII.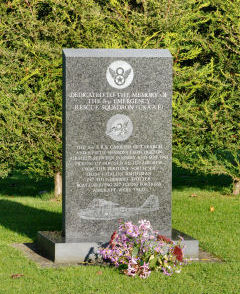 These memorials are thoughtfully sited in beautifully kept bays of grass and gravel, each enclosure hedged and with flagpoles completing the setting. Seats are provided for visitors. Etched into the memorials are depictions of aircraft, squadron badges and the layout of the airfield itself, all skilfully executed.
Operational from 1942 until just after end of the War in 1945, this base was home to brave young men who served the allied forces flying fighters and bombers from the three runways of the airfield.
The memorial to the 56th Fighter Group (Zemke's Wolfpack) [below] carries a plaque commemorating that this Group established a record of combat performance unequalled in US Airforce Fighter history, while the memorial to the 489th Bomb Group records these servicemen who played important parts in the historic events of D-Day in June 1944 [right]. The third memorial is dedicated to the 5th Emergency Rescue Squadron who rescued downed allied aircrew from the North Sea [left].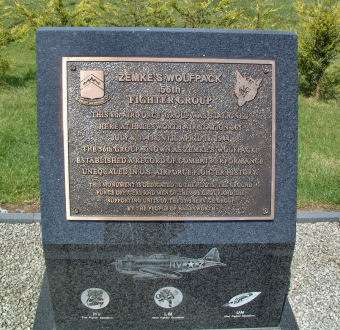 Inscription
The Inscription on the stone reads as follows:

ZEMKE'S WOLFPACK
56th
FIGHTER GROUP
THIS 8th AIR FORCE GROUP WAS STATIONED
HERE AT HALESWORTH AIR STATION 365
JULY 8, 1943 UNTIL APRIL 18, 1944
THE 56th GROUP, KNOWN AS ZEMKE's WOLFPACK,
ESTABLISHED A RECORD OF COMBAT PERFORMANCE
UNEQUALED IN U.S. AIRFORCE FIGHTER HISTORY.

This momument is dedicated to the pilots, the ground
force officers and men of the 56th Group and the
supporting units of the 33rd Service Group
by the people of Halesworth
You can also read our extensive report about the Halesworth Town War Memorial.
Some Favourite Websites For June 2022:
The Halesworth Pet Store – Specialists in Animal Nutrition and Pet Care
Visit our shop or take advantage of our Free Local Delivery Service! We are experts in animal nutrition, catering for all quantities – from small bags to bulk deliveries amd we are happy to help with all of your requirements
Southwold Beach Hut Owners Association – The online home of the owners of Southwold's iconic beach huts
On this website are details of the Southwold Beach Hut Owners Association group as well as the latest news and information for prospective, new and existing members, owning a tiny slice of our wonderful Suffolk coastline.
Woodside Barn – Skilful conversion of a Grade II listed timber-framed barn close to Aldeburgh, for up to Six
Children and well-behaved pets welcome. Downstairs bedroom with wet room. All bedrooms en-suite. WiFi. Outside space.
Chris Doyle Photography – Beautiful Photos of local nature and recent horse riding events
View extensive online galleries of recent horse shows, show jumping, cross country and other events as well as galleries of local wildlife. Prints are available to order online.
Halesworth Stationers – For all your personal and business stationary needs
Now under new ownership, The Halesworth Stationers is a treasure trove of office, stationary and art and craft supplies along with Inkjet Cartridges & Computer Accessories. Halesworth Stationers are now open with appropriate spacing and Covid-19 precautions