BlythWeb Notes on the Halesworth Airfield War Memorials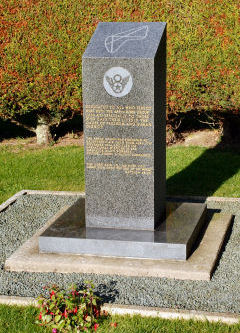 Close to the Halesworth Airfield Museum stand three fine memorials to those American Servicemen who served at Halesworth Airfield during WWII.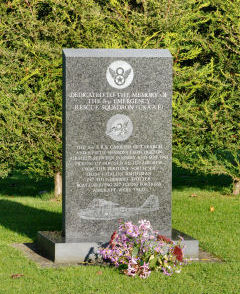 These memorials are thoughtfully sited in beautifully kept bays of grass and gravel, each enclosure hedged and with flagpoles completing the setting. Seats are provided for visitors. Etched into the memorials are depictions of aircraft, squadron badges and the layout of the airfield itself, all skilfully executed.
Operational from 1942 until just after end of the War in 1945, this base was home to brave young men who served the allied forces flying fighters and bombers from the three runways of the airfield.
The memorial to the 56th Fighter Group (Zemke's Wolfpack) [below] carries a plaque commemorating that this Group established a record of combat performance unequalled in US Airforce Fighter history, while the memorial to the 489th Bomb Group records these servicemen who played important parts in the historic events of D-Day in June 1944 [right]. The third memorial is dedicated to the 5th Emergency Rescue Squadron who rescued downed allied aircrew from the North Sea [left].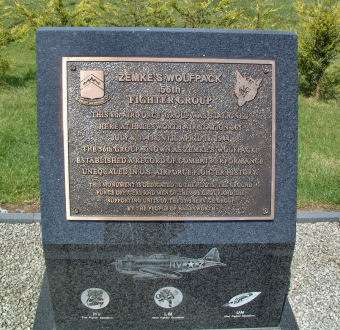 Inscription
The Inscription on the stone reads as follows:

ZEMKE'S WOLFPACK
56th
FIGHTER GROUP
THIS 8th AIR FORCE GROUP WAS STATIONED
HERE AT HALESWORTH AIR STATION 365
JULY 8, 1943 UNTIL APRIL 18, 1944
THE 56th GROUP, KNOWN AS ZEMKE's WOLFPACK,
ESTABLISHED A RECORD OF COMBAT PERFORMANCE
UNEQUALED IN U.S. AIRFORCE FIGHTER HISTORY.

This momument is dedicated to the pilots, the ground
force officers and men of the 56th Group and the
supporting units of the 33rd Service Group
by the people of Halesworth
You can also read our extensive report about the Halesworth Town War Memorial.
Some Favourite Websites For June 2019:
Lima Cottage Flat – A spacious get-away retreat for two, in the heart of Walberswick, close to the beach and the village green
Situated in the picturesque coastal village of Walberswick, Lima Cottage is a self contained, self catering, first floor holiday flat. This holiday home - sleeping two - is close to the beach, local pubs and gift shops.
Singtong Neeyom Thai Restaurant – Delicious authentic Thai Cuisine
Take a look at Singtong Neeyom Thai Restaurant in the centre of Halesworth, for a range of delicious and skillfully prepared Thai dishes created by their own native Thai, Piek.
Stoneware Birds – Life-sized handmade and unique British birds, now available to buy online.
A charming unique gift or a treat for oneself. See the website to know how each one is made. Now available to buy online. Each bird is an individual creation, varying in choice from the perky wren to the plump bullfinch together with other well-loved British birds. Which will you choose?
Rookyard Cottage, Holton – Eco-friendly self-catering cottage near Halesworth with private heated indoor swimming pool available
Set in over two acres Valley Farm offers two self-catering cottages, Rookyard Cottage and Swallow Barn, both with eco-friendly features and each sleeping up to four people + cot. Rated AA 4 Stars. WiFi. Private heated indoor swimming pool available. Ten miles from seaside at Southwold. Pets not accepted.
Chris Pretty Mountaineering – Rock Climbing/Mountaineering Instructor and International Mountain Leader
Chris aims to give you an experience which ensures you are taught to the highest national standards and to ensure that you actually learn the skills required to rock climb, trek, navigate and otherwise move around the mountainous environment autonomously. The teaching is delivered by an expert team who are tried and tested in both their personal skills and their ability to teach and ensure learning with an emphasis on personal progression.