Notes on the Bulcamp Oddity at Blythburgh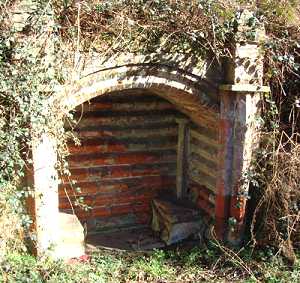 This unusual structure is set into the embankment on the east side of the A145, just north of the A145/A12 junction near Blythburgh.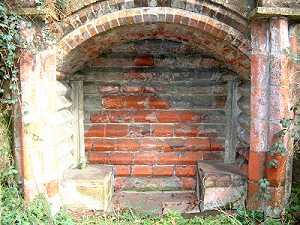 Located approximately halfway between Blythburgh and Bulcamp (grid ref: TM450762) it perhaps gives the appearance of an uncomfortable bus shelter. However, as it is believed to date from the mid-1800s the wait for a bus would surely have proved intolerable and may account for the belief that it is haunted.
Another suggestion is that it was indeed a shelter, but for those whose journey to the nearby Bulcamp Workhouse (a 'House of Industry' dating from the 1700s, now a private residential complex) meant that their arrival was after the House had closed for the night. Surely though, this structure is much too small to linger in.
Perhaps clues to its purpose lie in references to the Tollgate, or Turnpike, Cottages which stood nearby, just down the hill, but on the opposite side of the road. Was the structure in some way associated with the Turnpike road?
Or again, perhaps it should be noted that the land lying behind the structure is named 'Springhill', and, on a walkers' map, this stretch of road is named 'Springhole Lane'. Perhaps the structure marks the site of an ancient spring, now no longer in evidence.
Article by Eileen Heaps, photos by Tim Heaps
Some Favourite Websites For September 2018:
Halesworth Arts Festival – The Seventeenth Festival takes place 13th - 28th October 2018 - online booking open now!
Another marvellous selection of musicians, entertainers, and more. Book at least three qualifying events and receive 15% discount. Why not build a short break in Halesworth or area around an event or two? Come and enjoy!
Bloom's – Comfortable Bed and Breakfast accommodation close to Southwold
B&B accommodation just for one or two, in modern farmhouse on working farm close to Southwold. WiFi. Kingsize bed in room. Exclusive use of private adjacent spacious bathroom with jacuzzi bath. Cycle Route 31 passes farm drive. Sorry, no children or pets accepted.
North Manor Farmhouse – Ensuite B&B accommodation in beamed Suffolk farmhouse close to the Suffolk coast and Southwold
Two B&B rooms, both with en-suite. Guest lounge with open fire. Discount for stay exceeding three nights. Sorry, dogs not accepted.
CICO Chimney and Fireplace Services – Taking pride in providing a perfect chimney lining and fire prevention service
As one of the largest networks of chimney lining installers in the UK, CICO chimneys offer advice and solutions to individuals and trade. Since the early 1980's CICO chimney linings have continually developed a service and product that have been approved and recognised by many professionals as well as the general public.
David Elliott Stained Glass – Unique decorative stained glass, plus courses for all abilities held in a custom-equipped studio
David offers his wealth of experience to create unique stained glass commissions and items for your home. Stained glass courses offered, suitable for all abilities, from beginner to expert. Gift vouchers.