Notes on the Bulcamp Oddity at Blythburgh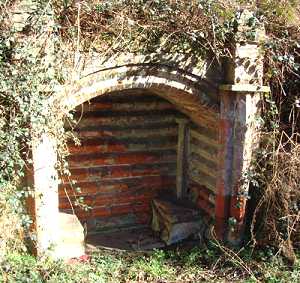 This unusual structure is set into the embankment on the east side of the A145, just north of the A145/A12 junction near Blythburgh.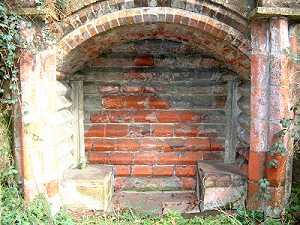 Located approximately halfway between Blythburgh and Bulcamp (grid ref: TM450762) it perhaps gives the appearance of an uncomfortable bus shelter. However, as it is believed to date from the mid-1800s the wait for a bus would surely have proved intolerable and may account for the belief that it is haunted.
Another suggestion is that it was indeed a shelter, but for those whose journey to the nearby Bulcamp Workhouse (a 'House of Industry' dating from the 1700s, now a private residential complex) meant that their arrival was after the House had closed for the night. Surely though, this structure is much too small to linger in.
Perhaps clues to its purpose lie in references to the Tollgate, or Turnpike, Cottages which stood nearby, just down the hill, but on the opposite side of the road. Was the structure in some way associated with the Turnpike road?
Or again, perhaps it should be noted that the land lying behind the structure is named 'Springhill', and, on a walkers' map, this stretch of road is named 'Springhole Lane'. Perhaps the structure marks the site of an ancient spring, now no longer in evidence.
Article by Eileen Heaps, photos by Tim Heaps
Some Favourite Websites For June 2022:
Chris Doyle Photography – Beautiful Photos of local nature and recent horse riding events
View extensive online galleries of recent horse shows, show jumping, cross country and other events as well as galleries of local wildlife. Prints are available to order online.
Southwold Beach Hut Owners Association – The online home of the owners of Southwold's iconic beach huts
On this website are details of the Southwold Beach Hut Owners Association group as well as the latest news and information for prospective, new and existing members, owning a tiny slice of our wonderful Suffolk coastline.
Woodside Barn – Skilful conversion of a Grade II listed timber-framed barn close to Aldeburgh, for up to Six
Children and well-behaved pets welcome. Downstairs bedroom with wet room. All bedrooms en-suite. WiFi. Outside space.
Halesworth Stationers – For all your personal and business stationary needs
Now under new ownership, The Halesworth Stationers is a treasure trove of office, stationary and art and craft supplies along with Inkjet Cartridges & Computer Accessories. Halesworth Stationers are now open with appropriate spacing and Covid-19 precautions
The Halesworth Pet Store – Specialists in Animal Nutrition and Pet Care
Visit our shop or take advantage of our Free Local Delivery Service! We are experts in animal nutrition, catering for all quantities – from small bags to bulk deliveries amd we are happy to help with all of your requirements