Notes on the Bulcamp Oddity at Blythburgh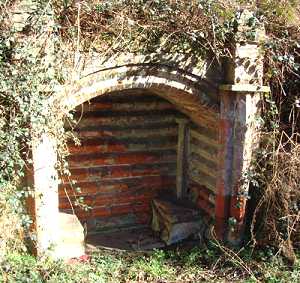 This unusual structure is set into the embankment on the east side of the A145, just north of the A145/A12 junction near Blythburgh.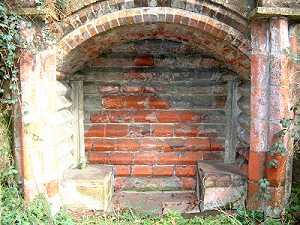 Located approximately halfway between Blythburgh and Bulcamp (grid ref: TM450762) it perhaps gives the appearance of an uncomfortable bus shelter. However, as it is believed to date from the mid-1800s the wait for a bus would surely have proved intolerable and may account for the belief that it is haunted.
Another suggestion is that it was indeed a shelter, but for those whose journey to the nearby Bulcamp Workhouse (a 'House of Industry' dating from the 1700s, now a private residential complex) meant that their arrival was after the House had closed for the night. Surely though, this structure is much too small to linger in.
Perhaps clues to its purpose lie in references to the Tollgate, or Turnpike, Cottages which stood nearby, just down the hill, but on the opposite side of the road. Was the structure in some way associated with the Turnpike road?
Or again, perhaps it should be noted that the land lying behind the structure is named 'Springhill', and, on a walkers' map, this stretch of road is named 'Springhole Lane'. Perhaps the structure marks the site of an ancient spring, now no longer in evidence.
Article by Eileen Heaps, photos by Tim Heaps
Some Favourite Websites For June 2021:
The Halesworth Pet Store – Specialists in Animal Nutrition and Pet Care
Visit our shop or take advantage of our Free Local Delivery Service! We are experts in animal nutrition, catering for all quantities – from small bags to bulk deliveries amd we are happy to help with all of your requirements
Hare Lodge Bed and Breakfast – An expansive but affordable pet friendly Bed and Breakfast
Offering four bed and breakfast rooms (two ground floor rooms with ensuite bathrooms, both with king size beds). Two rooms have the added luxury of their own lounge and kitchen with two bedrooms upstairs with views of the gardens. A fresh, delicious and locally sourced breakfast awaits you.
Alan Ross Removals – Alan Ross Removals
A long-established Suffolk-based company with a wealth of experience and offering competitive pricing for removals, haulage and storage. Residential and commercial relocation services offered.
Jennie Jones – Southwold's own specialist Estate Agents for buying, selling or renting
Jennie Jones is one of the areas leading independent estate agents with offices in Southwold. They are a progressive independent firm who work closely with their clients to provide the highest standards of personal and professional service.
St James Village Orchard – A beautifully well kept natural space cared for and maintained by the community
At the western edge of the small Suffolk village of St James South Elmham is a triangular shaped field of about one acre, bounded on two sides by Metfield Road and Common Road and known as the Greshaw Green Enclosure. The St James Village Orchard Project has transformed the enclosure into a flourishing community orchard.