Notes on the Bulcamp Oddity at Blythburgh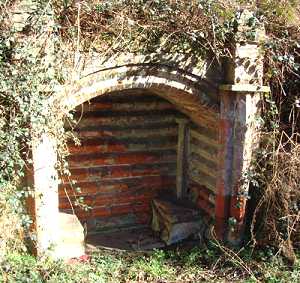 This unusual structure is set into the embankment on the east side of the A145, just north of the A145/A12 junction near Blythburgh.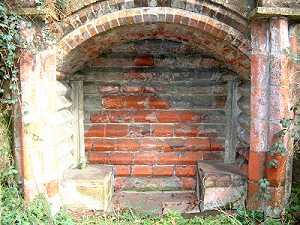 Located approximately halfway between Blythburgh and Bulcamp (grid ref: TM450762) it perhaps gives the appearance of an uncomfortable bus shelter. However, as it is believed to date from the mid-1800s the wait for a bus would surely have proved intolerable and may account for the belief that it is haunted.
Another suggestion is that it was indeed a shelter, but for those whose journey to the nearby Bulcamp Workhouse (a 'House of Industry' dating from the 1700s, now a private residential complex) meant that their arrival was after the House had closed for the night. Surely though, this structure is much too small to linger in.
Perhaps clues to its purpose lie in references to the Tollgate, or Turnpike, Cottages which stood nearby, just down the hill, but on the opposite side of the road. Was the structure in some way associated with the Turnpike road?
Or again, perhaps it should be noted that the land lying behind the structure is named 'Springhill', and, on a walkers' map, this stretch of road is named 'Springhole Lane'. Perhaps the structure marks the site of an ancient spring, now no longer in evidence.
Article by Eileen Heaps, photos by Tim Heaps
Some Favourite Websites For November 2019:
The Southwold Railway Trust – Open days at the Southwold Railway Steamworks project
The Southwold Railway was a 3-foot gauge line running between Halesworth and Southwold, a distance of almost 9 miles. Opened in 1879 and closed in 1929, it is remembered for its tall-chimneyed steam engines. The Steamworks project aims to restore this line.
David Elliott Stained Glass – Unique decorative stained glass, plus courses for all abilities held in a custom-equipped studio
David offers his wealth of experience to create unique stained glass commissions and items for your home. Stained glass courses offered, suitable for all abilities, from beginner to expert. Gift vouchers.
Green Haven Holidays - Wheelwrights Cottage – Self Catering accommodation for up to three people + two dogs, in Rumburgh near Halesworth
Just 500 metres to the dog-friendly CAMRA village pub! This beamed cottage has been beautifully modernised to provide one-bedroom accommodation with kingsize bed, plus additional single bed if required. WiFi. Front garden plus rear courtyard with outdoor furniture. Parking for two cars. Pets welcome at no extra charge. Short breaks available. Close to Halesworth and within 20 minutes drive to Southwold on the Suffolk Heritage Coast.
8 The Terrace, Walberswick – Family House in Walberswick for Seven, with WiFi. Own Parking
An Edwardian end of terrace self-catering family house sleeping seven, centrally situated in Walberswick, with own parking for two cars plus bicycle storage. Four bedrooms, original features, well-equipped. Just minutes from beach, shop, village green and handy for both village pubs. House available all year with short breaks available out of season.
1 Little Dingle Cottages – Self-catering accommodation for up to twelve people
This country cottage stands between Dunwich Forest and Dingle Marshes. Apart from the adjacent cottage it is quite isolated, being a mile from Dunwich village. Surrounded by open countryside, marshes, reedbeds and forest. Several major nature reserves are close by, with wildlife and birds to be seen on or near the property. Walks from the cottage. Parking. Pets by arrangement.