Notes on the Bulcamp Oddity at Blythburgh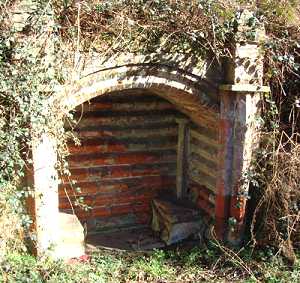 This unusual structure is set into the embankment on the east side of the A145, just north of the A145/A12 junction near Blythburgh.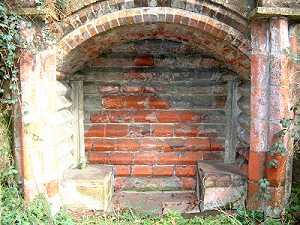 Located approximately halfway between Blythburgh and Bulcamp (grid ref: TM450762) it perhaps gives the appearance of an uncomfortable bus shelter. However, as it is believed to date from the mid-1800s the wait for a bus would surely have proved intolerable and may account for the belief that it is haunted.
Another suggestion is that it was indeed a shelter, but for those whose journey to the nearby Bulcamp Workhouse (a 'House of Industry' dating from the 1700s, now a private residential complex) meant that their arrival was after the House had closed for the night. Surely though, this structure is much too small to linger in.
Perhaps clues to its purpose lie in references to the Tollgate, or Turnpike, Cottages which stood nearby, just down the hill, but on the opposite side of the road. Was the structure in some way associated with the Turnpike road?
Or again, perhaps it should be noted that the land lying behind the structure is named 'Springhill', and, on a walkers' map, this stretch of road is named 'Springhole Lane'. Perhaps the structure marks the site of an ancient spring, now no longer in evidence.
Article by Eileen Heaps, photos by Tim Heaps
Some Favourite Websites For March 2019:
Michael Bullen – Walberswick based watercolourist and Artist
Watercolours are a moment in time with all the depth, light and simplicity of a haiku and just as elusive. Michael's paintings and prints can be viewed at his Studio overlooking The Market Square in Halesworth.
Hare Lodge Bed and Breakfast – An expansive but affordable pet friendly Bed and Breakfast
Offering four bed and breakfast rooms (two ground floor rooms with ensuite bathrooms, both with king size beds). Two rooms have the added luxury of their own lounge and kitchen with two bedrooms upstairs with views of the gardens. A fresh, delicious and locally sourced breakfast awaits you.
PJN Motor Engineering – A long-established garage you can trust, Wenhaston near Halesworth
Repairs, diagnostics, servicing, MOT preparation and submission, welding, valeting and much more. All work done using high quality oils, components and accessories. Member of the Good Garage Scheme.
Halesworth Arts Festival – Sunday Afternoon Recitals 2019 - 17th February to 31st March 2019 - Book online!
Another marvellous selection of musicians, entertainers, and more. Book at least three qualifying events and receive 15% discount. Why not build a short break in Halesworth or area around an event or two? Come and enjoy!
Bloom's – Comfortable Bed and Breakfast accommodation close to Southwold
B&B accommodation just for one or two, in modern farmhouse on working farm close to Southwold. WiFi. Kingsize bed in room. Exclusive use of private adjacent spacious bathroom with jacuzzi bath. Cycle Route 31 passes farm drive. Sorry, no children or pets accepted.