Notes on the Bulcamp Oddity at Blythburgh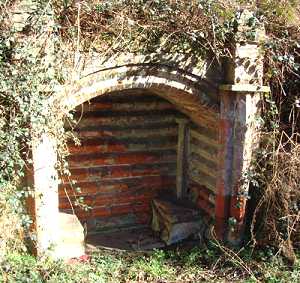 This unusual structure is set into the embankment on the east side of the A145, just north of the A145/A12 junction near Blythburgh.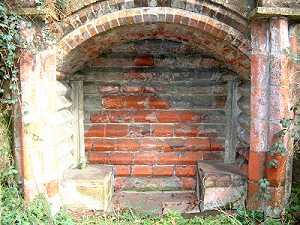 Located approximately halfway between Blythburgh and Bulcamp (grid ref: TM450762) it perhaps gives the appearance of an uncomfortable bus shelter. However, as it is believed to date from the mid-1800s the wait for a bus would surely have proved intolerable and may account for the belief that it is haunted.
Another suggestion is that it was indeed a shelter, but for those whose journey to the nearby Bulcamp Workhouse (a 'House of Industry' dating from the 1700s, now a private residential complex) meant that their arrival was after the House had closed for the night. Surely though, this structure is much too small to linger in.
Perhaps clues to its purpose lie in references to the Tollgate, or Turnpike, Cottages which stood nearby, just down the hill, but on the opposite side of the road. Was the structure in some way associated with the Turnpike road?
Or again, perhaps it should be noted that the land lying behind the structure is named 'Springhill', and, on a walkers' map, this stretch of road is named 'Springhole Lane'. Perhaps the structure marks the site of an ancient spring, now no longer in evidence.
Article by Eileen Heaps, photos by Tim Heaps
Some Favourite Websites For March 2021:
Alan Ross Removals – Alan Ross Removals
A long-established Suffolk-based company with a wealth of experience and offering competitive pricing for removals, haulage and storage. Residential and commercial relocation services offered.
George Borrow Trust – Explore about the well travelled 1800s poet George Borrow
The George Borrow Trust aims to advance the education of the public in the life and works of George Borrow in particular, by means which preserve, exhibit and study his writings and works and other material objects connected with or tending to perpetuate his memory or to throw light on his life and work.
Rookyard Cottage, Holton – Eco-friendly self-catering cottage near Halesworth with private heated indoor swimming pool available
Set in over two acres Valley Farm offers two self-catering cottages, Rookyard Cottage and Swallow Barn, both with eco-friendly features and each sleeping up to four people + cot. Rated AA 4 Stars. WiFi. Private heated indoor swimming pool available. Ten miles from seaside at Southwold. Pets not accepted.
Lighthouse View – Superb Southwold self-catering cottage for four
Lighthouse View in Southwold is a comfortable and welcoming holiday cottage sleeping four in two bedrooms. This early-Victorian cottage is in the very heart of this attractive coastal town and the front door it is just yards from the promenade and sea.
Golden Light Essences – A Gift of Transformation
Golden Light Essences comprise a range of flower and vibrational essences. These flower essences have been created to help us to understand and transform the negative beliefs we have about ourselves, and our world.