Notes on the Bulcamp Oddity at Blythburgh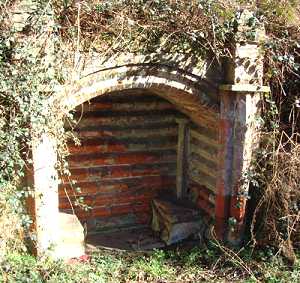 This unusual structure is set into the embankment on the east side of the A145, just north of the A145/A12 junction near Blythburgh.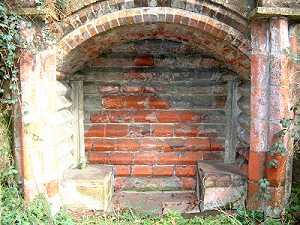 Located approximately halfway between Blythburgh and Bulcamp (grid ref: TM450762) it perhaps gives the appearance of an uncomfortable bus shelter. However, as it is believed to date from the mid-1800s the wait for a bus would surely have proved intolerable and may account for the belief that it is haunted.
Another suggestion is that it was indeed a shelter, but for those whose journey to the nearby Bulcamp Workhouse (a 'House of Industry' dating from the 1700s, now a private residential complex) meant that their arrival was after the House had closed for the night. Surely though, this structure is much too small to linger in.
Perhaps clues to its purpose lie in references to the Tollgate, or Turnpike, Cottages which stood nearby, just down the hill, but on the opposite side of the road. Was the structure in some way associated with the Turnpike road?
Or again, perhaps it should be noted that the land lying behind the structure is named 'Springhill', and, on a walkers' map, this stretch of road is named 'Springhole Lane'. Perhaps the structure marks the site of an ancient spring, now no longer in evidence.
Article by Eileen Heaps, photos by Tim Heaps
Some Favourite Websites For July 2021:
North Manor Farmhouse – Ensuite B&B accommodation in beamed Suffolk farmhouse close to the Suffolk coast and Southwold
Two B&B rooms, both with en-suite. Guest lounge with open fire. Discount for stay exceeding three nights. Sorry, dogs not accepted.
Campsites.co.uk – A host of campsites on offer around Southwold and the Coast
Campsites.co.uk list a wide variety of camping and glamping sites throughout East Suffolk, for perfectly peaceful holidays.
Hetty's Little Copy Shop – A wide range of printing services - including 3D - plus passport photos and more
The Little Copy Shop is in Thoroughfare, Halesworth, and offers all sorts of useful services involving printing, laminating, scanning, binding and copying plus various photographic services including passport photos.
PJN Motor Engineering – Very high quality local sevice
PJN Motor Engineering has been established in Wenhaston for many years and is based on providing a very high quality repair and maintenance service for all car and motorcycle types. Check them out if you need a quick fix or a full overhaul!
Thorington Theatre – A fantastic new outdoor theatre featuring all types of live performances
Thorington Theatre is a new outside space built in the beautiful Suffolk woodland. It is constructed with the smallest carbon footprint possible. The site is a bomb crater from WWII, which left a natural amphitheatre.