Notes on the Bulcamp Oddity at Blythburgh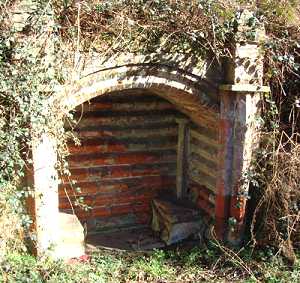 This unusual structure is set into the embankment on the east side of the A145, just north of the A145/A12 junction near Blythburgh.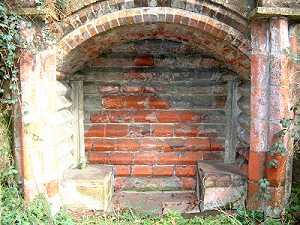 Located approximately halfway between Blythburgh and Bulcamp (grid ref: TM450762) it perhaps gives the appearance of an uncomfortable bus shelter. However, as it is believed to date from the mid-1800s the wait for a bus would surely have proved intolerable and may account for the belief that it is haunted.
Another suggestion is that it was indeed a shelter, but for those whose journey to the nearby Bulcamp Workhouse (a 'House of Industry' dating from the 1700s, now a private residential complex) meant that their arrival was after the House had closed for the night. Surely though, this structure is much too small to linger in.
Perhaps clues to its purpose lie in references to the Tollgate, or Turnpike, Cottages which stood nearby, just down the hill, but on the opposite side of the road. Was the structure in some way associated with the Turnpike road?
Or again, perhaps it should be noted that the land lying behind the structure is named 'Springhill', and, on a walkers' map, this stretch of road is named 'Springhole Lane'. Perhaps the structure marks the site of an ancient spring, now no longer in evidence.
Article by Eileen Heaps, photos by Tim Heaps
Some Favourite Websites For January 2018:
Whitehouse Barns – Whitehouse Barns - Two skilful barn conversions superbly placed close to Southwold
A spectacular location for birds and wildlife. Well-equipped self-catering accommodation. Up to five people (+ one) at Upper Barn, up to eight (+ cot) at Lower Barn. Book both for large family gatherings-linking internal doors can be unlocked. Lower Barn may suit those with limited mobility. Dogs allowed.
Halfpenny Cottage – Self-catering cottage in the heart of Walberswick sleeping 4 (+ 2 in the eaves)
A much-loved Walberswick cottage close to beach, pub, village green. Enclosed rear garden. One well-behaved dog accepted. Booking for weekly-lets only from now until mid-October.
Poachers Cottage – Poacher's Cottage, Halesworth - Charming self-catering accommodation for three (plus cot) with beach hut option
A welcoming and charming one-bedroomed cottage, with space for a cot. Additional single sofa-bed. Highchair available. This cosy cottage is in a Conservation Area in a street of other interesting period cottages, yet countryside walks start opposite the front door. Stroll to the Market Place and the pedestrianised Thoroughfare. Just ten miles to the coast at Southwold where you have the option of renting a beach hut which is in the same ownership.
Victoria Cottage – Centrally-located Southwold Cottage for Two, plus up to two dogs at no extra charge
Just minutes from Southwold's seafront, High Street, pubs and pier, this Victorian cottage has views of Southwold's iconic lighthouse from the upstairs day room and the charming rear courtyard. WiFi. Up to two well-behaved dogs welcome. Summer weeks and flexible breaks available.
Walberswick Ferry – Offering river trips as well as special occassion bookings
Climb aboard the launch Daybreeze and follow the River Blyth towards Blythburgh through Walberswick Nature Reserve - an Area of Outstanding National Beauty.