Notes on the Bulcamp Oddity at Blythburgh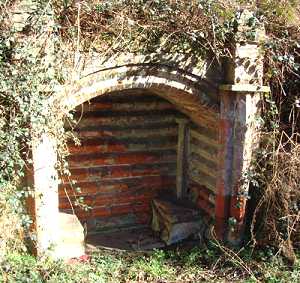 This unusual structure is set into the embankment on the east side of the A145, just north of the A145/A12 junction near Blythburgh.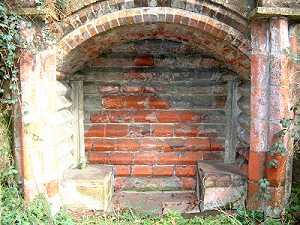 Located approximately halfway between Blythburgh and Bulcamp (grid ref: TM450762) it perhaps gives the appearance of an uncomfortable bus shelter. However, as it is believed to date from the mid-1800s the wait for a bus would surely have proved intolerable and may account for the belief that it is haunted.
Another suggestion is that it was indeed a shelter, but for those whose journey to the nearby Bulcamp Workhouse (a 'House of Industry' dating from the 1700s, now a private residential complex) meant that their arrival was after the House had closed for the night. Surely though, this structure is much too small to linger in.
Perhaps clues to its purpose lie in references to the Tollgate, or Turnpike, Cottages which stood nearby, just down the hill, but on the opposite side of the road. Was the structure in some way associated with the Turnpike road?
Or again, perhaps it should be noted that the land lying behind the structure is named 'Springhill', and, on a walkers' map, this stretch of road is named 'Springhole Lane'. Perhaps the structure marks the site of an ancient spring, now no longer in evidence.
Article by Eileen Heaps, photos by Tim Heaps
Some Favourite Websites For March 2018:
Holly Tree Cottage – Self-catering for up to six in 4-bedroomed cottage in Wangford, three miles from Southwold
Holly Tree Cottage is a comfortable cottage, with central heating, garden and own parking. WiFi. Sleeps five in four bedrooms (one downstairs), sleeps six when using the additional stackaway bed. Downstairs bathroom. Open all year. Sorry no pets.
Strathmore – Self-catering for up to eight in ground floor apartment on Southwold sea front. WiFi.
Self-catering for up to eight in this three bedroomed spacious Victorian property on North Parade. Ground floor apartment. Handy for the beach, Southwold's pier and the town centre. Wonderful sea views from the lounge and front bedroom. WiFi.
Hare Lodge Bed and Breakfast – An expansive but affordable pet friendly Bed and Breakfast
Offering four bed and breakfast rooms (two ground floor rooms with ensuite bathrooms, both with king size beds). Two rooms have the added luxury of their own lounge and kitchen with two bedrooms upstairs with views of the gardens. A fresh, delicious and locally sourced breakfast awaits you.
Larnaca Holiday Apartment, Cyprus – Sun, Sand and the Mediterranean!
Get away from it all and stay in this lovely one bedroomed apartment for two which features two large balconies offering views of the sea and distant mountains and only a short walk from central Larnaca, in the heart of the Mediterranean!
Logs Logs Logs – Family Firm delivering kiln dried logs to Norfolk and Suffolk, including Norwich, Diss and Woodbridge
Logs available in tipper loads and bulk bags for wood burning stoves, open fires and pizza ovens. In addition supplying firewood in bulk bags to Essex, Cambridgeshire, London and beyond.