Notes on the Bulcamp Oddity at Blythburgh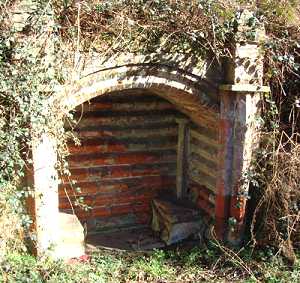 This unusual structure is set into the embankment on the east side of the A145, just north of the A145/A12 junction near Blythburgh.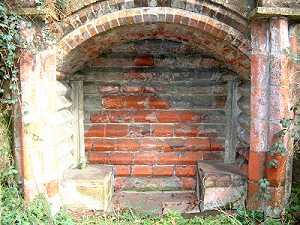 Located approximately halfway between Blythburgh and Bulcamp (grid ref: TM450762) it perhaps gives the appearance of an uncomfortable bus shelter. However, as it is believed to date from the mid-1800s the wait for a bus would surely have proved intolerable and may account for the belief that it is haunted.
Another suggestion is that it was indeed a shelter, but for those whose journey to the nearby Bulcamp Workhouse (a 'House of Industry' dating from the 1700s, now a private residential complex) meant that their arrival was after the House had closed for the night. Surely though, this structure is much too small to linger in.
Perhaps clues to its purpose lie in references to the Tollgate, or Turnpike, Cottages which stood nearby, just down the hill, but on the opposite side of the road. Was the structure in some way associated with the Turnpike road?
Or again, perhaps it should be noted that the land lying behind the structure is named 'Springhill', and, on a walkers' map, this stretch of road is named 'Springhole Lane'. Perhaps the structure marks the site of an ancient spring, now no longer in evidence.
Article by Eileen Heaps, photos by Tim Heaps
Some Favourite Websites For July 2018:
Southwold Beach Hut Owners Association – The online home of the owners of Southwold's iconic beach huts
On this website are details of the Southwold Beach Hut Owners Association group as well as the latest news and information for prospective, new and existing members, owning a tiny slice of our wonderful Suffolk coastline.
Hetty's Little Copy Shop – A wide range of printing services - including 3D - plus passport photos and more
The Little Copy Shop is in Thoroughfare, Halesworth, and offers all sorts of useful services involving printing, laminating, scanning, binding and copying plus various photographic services including passport photos.
Lamorna Cottage – Affordable three-bedroomed self-catering cottage in Reydon near Southwold
An end-terrace cottage offering accommodation for up to five in quiet residential street. Garden plus shed for cycles. Close to village shops. 15 minutes walk to the sea. Open fire in Living Room. Radio, board games, puzzles and books but no TV. Sorry, no pets.
23 North Parade – Large sea-front house at Southwold with private parking for up to four cars
With six bedrooms this traditional family house sleeps up to twelve plus a cot. Parking for four cars. Panoramic sea views from the front of the house, including from the first floor sitting room. Back garden with barbecue. WiFi. Up to two dogs accepted for extra charge.
Bloom's – Comfortable Bed and Breakfast accommodation close to Southwold
B&B accommodation just for one or two, in modern farmhouse on working farm close to Southwold. WiFi. Kingsize bed in room. Exclusive use of private adjacent spacious bathroom with jacuzzi bath. Cycle Route 31 passes farm drive. Sorry, no children or pets accepted.