Notes on the Bulcamp Oddity at Blythburgh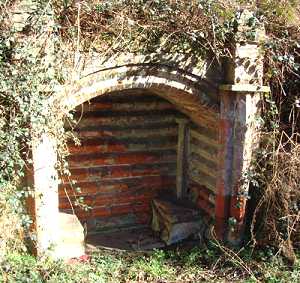 This unusual structure is set into the embankment on the east side of the A145, just north of the A145/A12 junction near Blythburgh.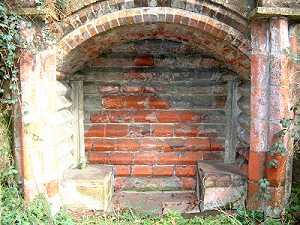 Located approximately halfway between Blythburgh and Bulcamp (grid ref: TM450762) it perhaps gives the appearance of an uncomfortable bus shelter. However, as it is believed to date from the mid-1800s the wait for a bus would surely have proved intolerable and may account for the belief that it is haunted.
Another suggestion is that it was indeed a shelter, but for those whose journey to the nearby Bulcamp Workhouse (a 'House of Industry' dating from the 1700s, now a private residential complex) meant that their arrival was after the House had closed for the night. Surely though, this structure is much too small to linger in.
Perhaps clues to its purpose lie in references to the Tollgate, or Turnpike, Cottages which stood nearby, just down the hill, but on the opposite side of the road. Was the structure in some way associated with the Turnpike road?
Or again, perhaps it should be noted that the land lying behind the structure is named 'Springhill', and, on a walkers' map, this stretch of road is named 'Springhole Lane'. Perhaps the structure marks the site of an ancient spring, now no longer in evidence.
Article by Eileen Heaps, photos by Tim Heaps
Some Favourite Websites For February 2019:
Amber House – The home-from-home that will turn every one of your visits into a happy memory.
This spacious Victorian family house on the seafront has been completely refurbished, retaining the period style of the spacious, well-proportioned interior while placing the emphasis on up-to-date comforts.
Alan Ross Removals – Alan Ross Removals
A long-established Suffolk-based company with a wealth of experience and offering competitive pricing for removals, haulage and storage. Residential and commercial relocation services offered.
Brook Farm Stables – Juliet Penwarden Coaching
Juliet is an experienced and qualified coach who places a strong emphasis on harmony between horse and rider and takes great pleasure in helping partnerships progress, whatever their goals.
Andy Seedhouse Boats – Andy Seedhouse Boats, Woodbridge - Boat Sales
A friendly and professional family-run business with an old-fashioned approach to customer service, located on the picturesque waterfront at Woodbridge on the River Deben. From dinghies and day boats to fishing boats and yachts, and even including liveaboard boats too, Andy brings his many years of experience in helping his customers buy and sell. Also chandlery, trailers, etc.
Allens Butchers – Personal service and many years of experience are the hallmarks of this outstanding local butcher
There has been a butchers shop on this site for at least 200 years. Kevin Allen, who has owned and run the shop for over 20 years, is committed to selling the best quality local produce. For this reason he buys all his meat direct from local farms.