Notes on the Bulcamp Oddity at Blythburgh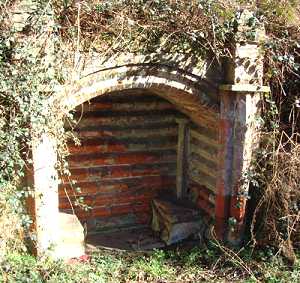 This unusual structure is set into the embankment on the east side of the A145, just north of the A145/A12 junction near Blythburgh.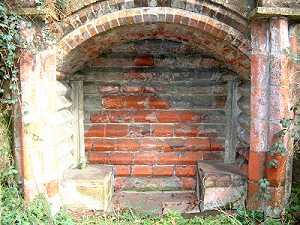 Located approximately halfway between Blythburgh and Bulcamp (grid ref: TM450762) it perhaps gives the appearance of an uncomfortable bus shelter. However, as it is believed to date from the mid-1800s the wait for a bus would surely have proved intolerable and may account for the belief that it is haunted.
Another suggestion is that it was indeed a shelter, but for those whose journey to the nearby Bulcamp Workhouse (a 'House of Industry' dating from the 1700s, now a private residential complex) meant that their arrival was after the House had closed for the night. Surely though, this structure is much too small to linger in.
Perhaps clues to its purpose lie in references to the Tollgate, or Turnpike, Cottages which stood nearby, just down the hill, but on the opposite side of the road. Was the structure in some way associated with the Turnpike road?
Or again, perhaps it should be noted that the land lying behind the structure is named 'Springhill', and, on a walkers' map, this stretch of road is named 'Springhole Lane'. Perhaps the structure marks the site of an ancient spring, now no longer in evidence.
Article by Eileen Heaps, photos by Tim Heaps
Some Favourite Websites For October 2019:
Symon Clarke Composer – Acclaimed classic and ensemble music
Symon Clarke has composed acclaimed music for a wide range of classical ensembles and soloists and created a body of original music for Javanese and Balinese gamelan. His works have been played by well-known performers around the UK and abroad.
Chris Pretty Mountaineering – Rock Climbing/Mountaineering Instructor and International Mountain Leader
Chris aims to give you an experience which ensures you are taught to the highest national standards and to ensure that you actually learn the skills required to rock climb, trek, navigate and otherwise move around the mountainous environment autonomously. The teaching is delivered by an expert team who are tried and tested in both their personal skills and their ability to teach and ensure learning with an emphasis on personal progression.
Lighthouse View – Superb Southwold self-catering cottage for four
Lighthouse View in Southwold is a comfortable and welcoming holiday cottage sleeping four in two bedrooms. This early-Victorian cottage is in the very heart of this attractive coastal town and the front door it is just yards from the promenade and sea.
Hare Lodge Bed and Breakfast – An expansive but affordable pet friendly Bed and Breakfast
Offering four bed and breakfast rooms (two ground floor rooms with ensuite bathrooms, both with king size beds). Two rooms have the added luxury of their own lounge and kitchen with two bedrooms upstairs with views of the gardens. A fresh, delicious and locally sourced breakfast awaits you.
Halesworth Local Food Database – A directory of high quality local food producers and retailers
Halesworth and the Blyth Valley enjoy easy access to all kinds of amazing local food producers. There are organic farms, rare breed farms, artisan cheese producers, several local breweries and independent shops selling this wonderful local food