Wangford Village Tour - Introduction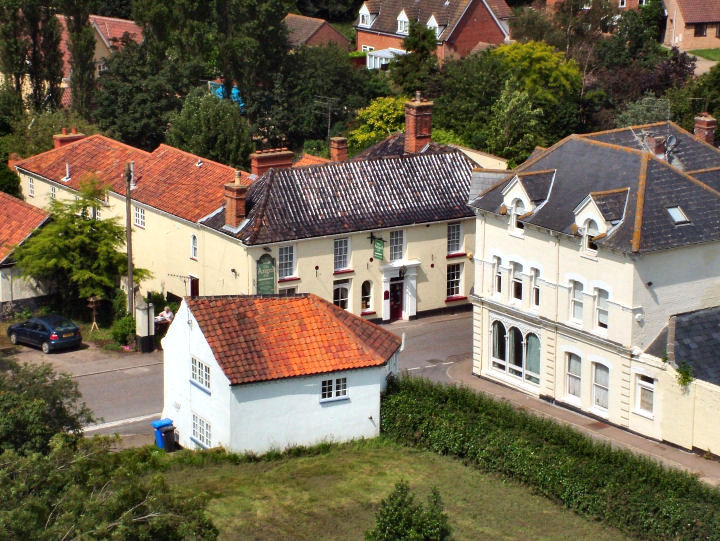 The idea of a tour around the village was conceived at the planning stage of "Wangford Week" in 2004. A variety of local events were held and it was thought that there is much historical interest in the village that could be revealed by a tour. As a result a guide book was produced and sold on the tour which was conducted by local resident Peter Muttitt. Peter has known the village for many years and was able to add additional points of interest from memory along the way. Here we have re-published this tour guide and included Peter's additional points.
We are very grateful to Mr Douglas Howeld who originally wrote the guide. Much was written from Dougie's own memories and recordings and he admits that some of it may not be factually correct. If your memories are revived by reading the guide and you think of, or disagree with, something please let us know. The guide can then be updated.
Photographs have been included along the way in order that a virtual tour can be undertaken from the comfort of your own home. Whichever way you undertake it we hope you enjoy the tour and guide.
The tour starts at the southern end of the village at the A12 bridge over the River Wang. (Approach this by travelling to the bottom end of the High Street).
Some Favourite Websites For November 2019:
Green Haven Holidays - Wheelwrights Cottage – Self Catering accommodation for up to three people + two dogs, in Rumburgh near Halesworth
Just 500 metres to the dog-friendly CAMRA village pub! This beamed cottage has been beautifully modernised to provide one-bedroom accommodation with kingsize bed, plus additional single bed if required. WiFi. Front garden plus rear courtyard with outdoor furniture. Parking for two cars. Pets welcome at no extra charge. Short breaks available. Close to Halesworth and within 20 minutes drive to Southwold on the Suffolk Heritage Coast.
1 Little Dingle Cottages – Self-catering accommodation for up to twelve people
This country cottage stands between Dunwich Forest and Dingle Marshes. Apart from the adjacent cottage it is quite isolated, being a mile from Dunwich village. Surrounded by open countryside, marshes, reedbeds and forest. Several major nature reserves are close by, with wildlife and birds to be seen on or near the property. Walks from the cottage. Parking. Pets by arrangement.
The Southwold Railway Trust – Open days at the Southwold Railway Steamworks project
The Southwold Railway was a 3-foot gauge line running between Halesworth and Southwold, a distance of almost 9 miles. Opened in 1879 and closed in 1929, it is remembered for its tall-chimneyed steam engines. The Steamworks project aims to restore this line.
8 The Terrace, Walberswick – Family House in Walberswick for Seven, with WiFi. Own Parking
An Edwardian end of terrace self-catering family house sleeping seven, centrally situated in Walberswick, with own parking for two cars plus bicycle storage. Four bedrooms, original features, well-equipped. Just minutes from beach, shop, village green and handy for both village pubs. House available all year with short breaks available out of season.
David Elliott Stained Glass – Unique decorative stained glass, plus courses for all abilities held in a custom-equipped studio
David offers his wealth of experience to create unique stained glass commissions and items for your home. Stained glass courses offered, suitable for all abilities, from beginner to expert. Gift vouchers.