Wangford Village Tour - Introduction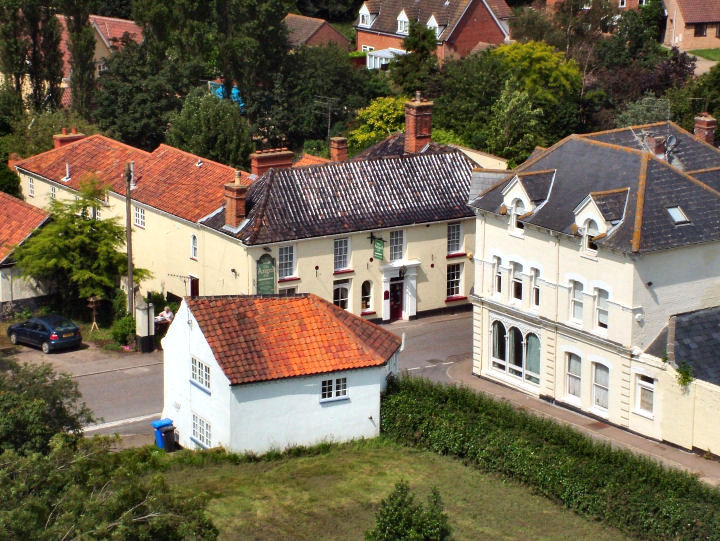 The idea of a tour around the village was conceived at the planning stage of "Wangford Week" in 2004. A variety of local events were held and it was thought that there is much historical interest in the village that could be revealed by a tour. As a result a guide book was produced and sold on the tour which was conducted by local resident Peter Muttitt. Peter has known the village for many years and was able to add additional points of interest from memory along the way. Here we have re-published this tour guide and included Peter's additional points.
We are very grateful to Mr Douglas Howeld who originally wrote the guide. Much was written from Dougie's own memories and recordings and he admits that some of it may not be factually correct. If your memories are revived by reading the guide and you think of, or disagree with, something please let us know. The guide can then be updated.
Photographs have been included along the way in order that a virtual tour can be undertaken from the comfort of your own home. Whichever way you undertake it we hope you enjoy the tour and guide.
The tour starts at the southern end of the village at the A12 bridge over the River Wang. (Approach this by travelling to the bottom end of the High Street).
Some Favourite Websites For June 2021:
Jennie Jones – Southwold's own specialist Estate Agents for buying, selling or renting
Jennie Jones is one of the areas leading independent estate agents with offices in Southwold. They are a progressive independent firm who work closely with their clients to provide the highest standards of personal and professional service.
St James Village Orchard – A beautifully well kept natural space cared for and maintained by the community
At the western edge of the small Suffolk village of St James South Elmham is a triangular shaped field of about one acre, bounded on two sides by Metfield Road and Common Road and known as the Greshaw Green Enclosure. The St James Village Orchard Project has transformed the enclosure into a flourishing community orchard.
The Halesworth Pet Store – Specialists in Animal Nutrition and Pet Care
Visit our shop or take advantage of our Free Local Delivery Service! We are experts in animal nutrition, catering for all quantities – from small bags to bulk deliveries amd we are happy to help with all of your requirements
Hare Lodge Bed and Breakfast – An expansive but affordable pet friendly Bed and Breakfast
Offering four bed and breakfast rooms (two ground floor rooms with ensuite bathrooms, both with king size beds). Two rooms have the added luxury of their own lounge and kitchen with two bedrooms upstairs with views of the gardens. A fresh, delicious and locally sourced breakfast awaits you.
Alan Ross Removals – Alan Ross Removals
A long-established Suffolk-based company with a wealth of experience and offering competitive pricing for removals, haulage and storage. Residential and commercial relocation services offered.