Wangford Village Tour - Introduction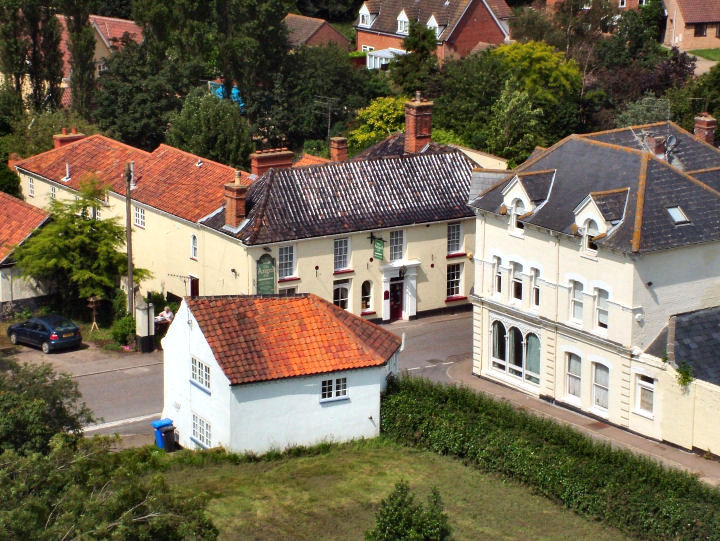 The idea of a tour around the village was conceived at the planning stage of "Wangford Week" in 2004. A variety of local events were held and it was thought that there is much historical interest in the village that could be revealed by a tour. As a result a guide book was produced and sold on the tour which was conducted by local resident Peter Muttitt. Peter has known the village for many years and was able to add additional points of interest from memory along the way. Here we have re-published this tour guide and included Peter's additional points.
We are very grateful to Mr Douglas Howeld who originally wrote the guide. Much was written from Dougie's own memories and recordings and he admits that some of it may not be factually correct. If your memories are revived by reading the guide and you think of, or disagree with, something please let us know. The guide can then be updated.
Photographs have been included along the way in order that a virtual tour can be undertaken from the comfort of your own home. Whichever way you undertake it we hope you enjoy the tour and guide.
The tour starts at the southern end of the village at the A12 bridge over the River Wang. (Approach this by travelling to the bottom end of the High Street).
Some Favourite Websites For June 2019:
Stoneware Birds – Life-sized handmade and unique British birds, now available to buy online.
A charming unique gift or a treat for oneself. See the website to know how each one is made. Now available to buy online. Each bird is an individual creation, varying in choice from the perky wren to the plump bullfinch together with other well-loved British birds. Which will you choose?
Lima Cottage Flat – A spacious get-away retreat for two, in the heart of Walberswick, close to the beach and the village green
Situated in the picturesque coastal village of Walberswick, Lima Cottage is a self contained, self catering, first floor holiday flat. This holiday home - sleeping two - is close to the beach, local pubs and gift shops.
Rookyard Cottage, Holton – Eco-friendly self-catering cottage near Halesworth with private heated indoor swimming pool available
Set in over two acres Valley Farm offers two self-catering cottages, Rookyard Cottage and Swallow Barn, both with eco-friendly features and each sleeping up to four people + cot. Rated AA 4 Stars. WiFi. Private heated indoor swimming pool available. Ten miles from seaside at Southwold. Pets not accepted.
Singtong Neeyom Thai Restaurant – Delicious authentic Thai Cuisine
Take a look at Singtong Neeyom Thai Restaurant in the centre of Halesworth, for a range of delicious and skillfully prepared Thai dishes created by their own native Thai, Piek.
Chris Pretty Mountaineering – Rock Climbing/Mountaineering Instructor and International Mountain Leader
Chris aims to give you an experience which ensures you are taught to the highest national standards and to ensure that you actually learn the skills required to rock climb, trek, navigate and otherwise move around the mountainous environment autonomously. The teaching is delivered by an expert team who are tried and tested in both their personal skills and their ability to teach and ensure learning with an emphasis on personal progression.