Wangford Village Tour - Introduction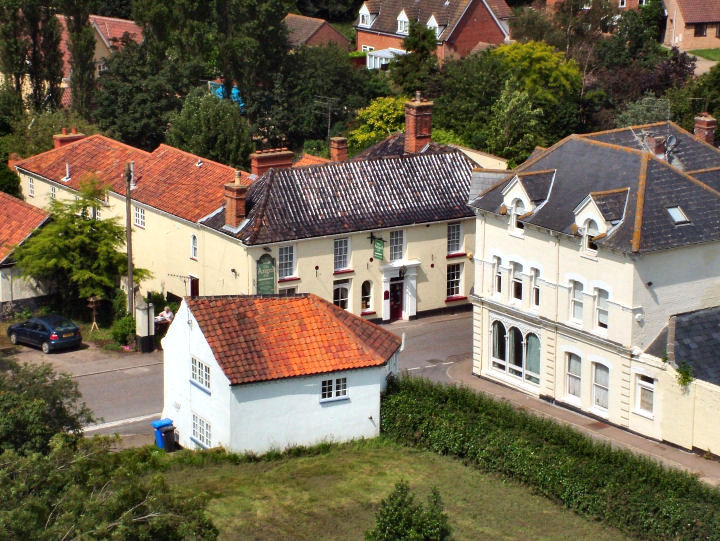 The idea of a tour around the village was conceived at the planning stage of "Wangford Week" in 2004. A variety of local events were held and it was thought that there is much historical interest in the village that could be revealed by a tour. As a result a guide book was produced and sold on the tour which was conducted by local resident Peter Muttitt. Peter has known the village for many years and was able to add additional points of interest from memory along the way. Here we have re-published this tour guide and included Peter's additional points.
We are very grateful to Mr Douglas Howeld who originally wrote the guide. Much was written from Dougie's own memories and recordings and he admits that some of it may not be factually correct. If your memories are revived by reading the guide and you think of, or disagree with, something please let us know. The guide can then be updated.
Photographs have been included along the way in order that a virtual tour can be undertaken from the comfort of your own home. Whichever way you undertake it we hope you enjoy the tour and guide.
The tour starts at the southern end of the village at the A12 bridge over the River Wang. (Approach this by travelling to the bottom end of the High Street).
Some Favourite Websites For February 2019:
Allens Butchers – Personal service and many years of experience are the hallmarks of this outstanding local butcher
There has been a butchers shop on this site for at least 200 years. Kevin Allen, who has owned and run the shop for over 20 years, is committed to selling the best quality local produce. For this reason he buys all his meat direct from local farms.
Brook Farm Stables – Juliet Penwarden Coaching
Juliet is an experienced and qualified coach who places a strong emphasis on harmony between horse and rider and takes great pleasure in helping partnerships progress, whatever their goals.
Alan Ross Removals – Alan Ross Removals
A long-established Suffolk-based company with a wealth of experience and offering competitive pricing for removals, haulage and storage. Residential and commercial relocation services offered.
Amber House – The home-from-home that will turn every one of your visits into a happy memory.
This spacious Victorian family house on the seafront has been completely refurbished, retaining the period style of the spacious, well-proportioned interior while placing the emphasis on up-to-date comforts.
Andy Seedhouse Boats – Andy Seedhouse Boats, Woodbridge - Boat Sales
A friendly and professional family-run business with an old-fashioned approach to customer service, located on the picturesque waterfront at Woodbridge on the River Deben. From dinghies and day boats to fishing boats and yachts, and even including liveaboard boats too, Andy brings his many years of experience in helping his customers buy and sell. Also chandlery, trailers, etc.