Wangford Village Tour - Introduction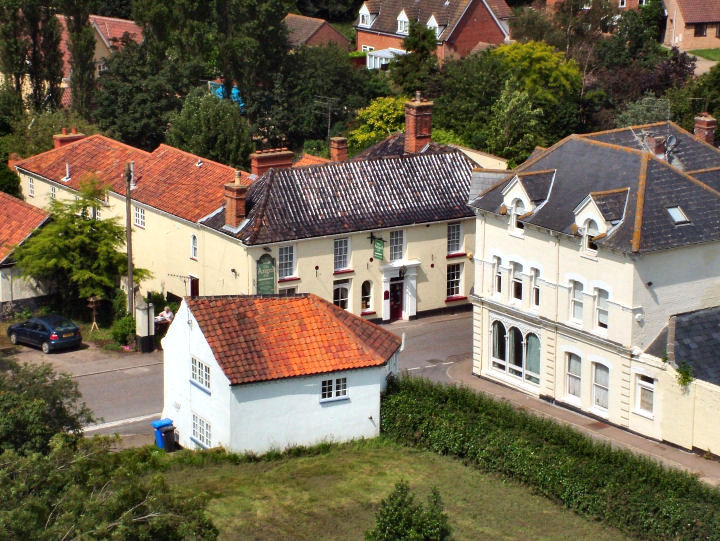 The idea of a tour around the village was conceived at the planning stage of "Wangford Week" in 2004. A variety of local events were held and it was thought that there is much historical interest in the village that could be revealed by a tour. As a result a guide book was produced and sold on the tour which was conducted by local resident Peter Muttitt. Peter has known the village for many years and was able to add additional points of interest from memory along the way. Here we have re-published this tour guide and included Peter's additional points.
We are very grateful to Mr Douglas Howeld who originally wrote the guide. Much was written from Dougie's own memories and recordings and he admits that some of it may not be factually correct. If your memories are revived by reading the guide and you think of, or disagree with, something please let us know. The guide can then be updated.
Photographs have been included along the way in order that a virtual tour can be undertaken from the comfort of your own home. Whichever way you undertake it we hope you enjoy the tour and guide.
The tour starts at the southern end of the village at the A12 bridge over the River Wang. (Approach this by travelling to the bottom end of the High Street).
Some Favourite Websites For July 2021:
North Manor Farmhouse – Ensuite B&B accommodation in beamed Suffolk farmhouse close to the Suffolk coast and Southwold
Two B&B rooms, both with en-suite. Guest lounge with open fire. Discount for stay exceeding three nights. Sorry, dogs not accepted.
PJN Motor Engineering – Very high quality local sevice
PJN Motor Engineering has been established in Wenhaston for many years and is based on providing a very high quality repair and maintenance service for all car and motorcycle types. Check them out if you need a quick fix or a full overhaul!
Thorington Theatre – A fantastic new outdoor theatre featuring all types of live performances
Thorington Theatre is a new outside space built in the beautiful Suffolk woodland. It is constructed with the smallest carbon footprint possible. The site is a bomb crater from WWII, which left a natural amphitheatre.
Hetty's Little Copy Shop – A wide range of printing services - including 3D - plus passport photos and more
The Little Copy Shop is in Thoroughfare, Halesworth, and offers all sorts of useful services involving printing, laminating, scanning, binding and copying plus various photographic services including passport photos.
Campsites.co.uk – A host of campsites on offer around Southwold and the Coast
Campsites.co.uk list a wide variety of camping and glamping sites throughout East Suffolk, for perfectly peaceful holidays.