Wangford Village Tour - Introduction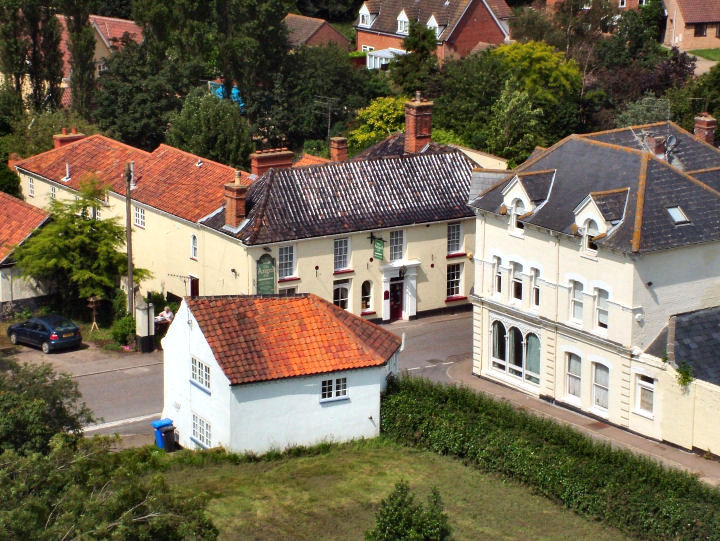 The idea of a tour around the village was conceived at the planning stage of "Wangford Week" in 2004. A variety of local events were held and it was thought that there is much historical interest in the village that could be revealed by a tour. As a result a guide book was produced and sold on the tour which was conducted by local resident Peter Muttitt. Peter has known the village for many years and was able to add additional points of interest from memory along the way. Here we have re-published this tour guide and included Peter's additional points.
We are very grateful to Mr Douglas Howeld who originally wrote the guide. Much was written from Dougie's own memories and recordings and he admits that some of it may not be factually correct. If your memories are revived by reading the guide and you think of, or disagree with, something please let us know. The guide can then be updated.
Photographs have been included along the way in order that a virtual tour can be undertaken from the comfort of your own home. Whichever way you undertake it we hope you enjoy the tour and guide.
The tour starts at the southern end of the village at the A12 bridge over the River Wang. (Approach this by travelling to the bottom end of the High Street).
Some Favourite Websites For April 2019:
Michael Bullen – Walberswick based watercolourist and Artist
Watercolours are a moment in time with all the depth, light and simplicity of a haiku and just as elusive. Michael's paintings and prints can be viewed at his Studio overlooking The Market Square in Halesworth.
Alan Ross Removals – Alan Ross Removals
A long-established Suffolk-based company with a wealth of experience and offering competitive pricing for removals, haulage and storage. Residential and commercial relocation services offered.
Waveney Wholesale – Suppliers of toys, novelties, giftware, china, housewares, pet items, beach goods and so much more
Established Halesworth-based suppliers with over 3000 lines stocked. On-line ordering or call and collect.
1 Little Dingle Cottages – Self-catering accommodation for up to twelve people
This country cottage stands between Dunwich Forest and Dingle Marshes. Apart from the adjacent cottage it is quite isolated, being a mile from Dunwich village. Surrounded by open countryside, marshes, reedbeds and forest. Several major nature reserves are close by, with wildlife and birds to be seen on or near the property. Walks from the cottage. Parking. Pets by arrangement.
David Elliott Stained Glass – Unique decorative stained glass, plus courses for all abilities held in a custom-equipped studio
David offers his wealth of experience to create unique stained glass commissions and items for your home. Stained glass courses offered, suitable for all abilities, from beginner to expert. Gift vouchers.