Iron Angel - Blythburgh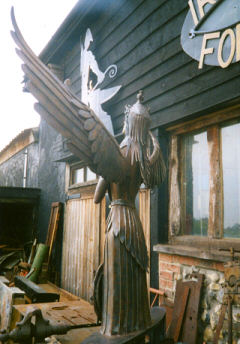 Outside a hidden foundry
The iron angel drew me to her
Magnetic gaze,
Empty eyes fastened on mine.
Metal feathers so finely beaten,
Their cold, hard touch
A surprise.
Looking soft and warm,
I could almost hear
Adjustments of feathers,
Preening and shaking
Into alignment,
Into place
Uncoloured,
Natural rusting and tempering
Had given the angel sheens,
Brown, silver, grey and rust red.
Yet I cannot truly say
What colours they were
Probably a heavenly mix
Of shading, of grading
Too fine for me,
Too difficult to place the words
Accurately.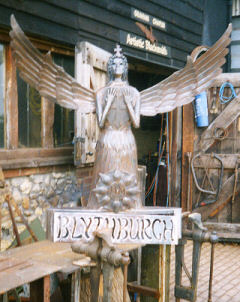 Set up near the great church,
I imagine its wings
Spread golden in a setting sun,
Its empty eyes fixed on me
As I stand and gaze
Remembering
My first vision,
My first amazed gasp.
The feathered wings,
Then as now,
About to wrap me within them.
Pulling me close,
Stopping my breath,
Closing my eyes.
Richard has also written an article about The Blythburgh Angel and how it was created.
Some Favourite Websites For July 2019:
Rookyard Cottage, Holton – Eco-friendly self-catering cottage near Halesworth with private heated indoor swimming pool available
Set in over two acres Valley Farm offers two self-catering cottages, Rookyard Cottage and Swallow Barn, both with eco-friendly features and each sleeping up to four people + cot. Rated AA 4 Stars. WiFi. Private heated indoor swimming pool available. Ten miles from seaside at Southwold. Pets not accepted.
Lima Cottage Flat – A spacious get-away retreat for two, in the heart of Walberswick, close to the beach and the village green
Situated in the picturesque coastal village of Walberswick, Lima Cottage is a self contained, self catering, first floor holiday flat. This holiday home - sleeping two - is close to the beach, local pubs and gift shops.
CICO Chimney and Fireplace Services – Taking pride in providing a perfect chimney lining and fire prevention service
As one of the largest networks of chimney lining installers in the UK, CICO chimneys offer advice and solutions to individuals and trade. Since the early 1980's CICO chimney linings have continually developed a service and product that have been approved and recognised by many professionals as well as the general public.
Andy Seedhouse Boats – Andy Seedhouse Boats, Woodbridge - Boat Sales
A friendly and professional family-run business with an old-fashioned approach to customer service, located on the picturesque waterfront at Woodbridge on the River Deben. From dinghies and day boats to fishing boats and yachts, and even including liveaboard boats too, Andy brings his many years of experience in helping his customers buy and sell. Also chandlery, trailers, etc.
Logs Logs Logs – Family Firm delivering kiln dried logs to Norfolk and Suffolk, including Norwich, Diss and Woodbridge
Logs available in tipper loads and bulk bags for wood burning stoves, open fires and pizza ovens. In addition supplying firewood in bulk bags to Essex, Cambridgeshire, London and beyond.