Iron Angel - Blythburgh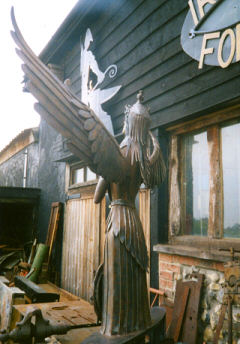 Outside a hidden foundry
The iron angel drew me to her
Magnetic gaze,
Empty eyes fastened on mine.
Metal feathers so finely beaten,
Their cold, hard touch
A surprise.
Looking soft and warm,
I could almost hear
Adjustments of feathers,
Preening and shaking
Into alignment,
Into place
Uncoloured,
Natural rusting and tempering
Had given the angel sheens,
Brown, silver, grey and rust red.
Yet I cannot truly say
What colours they were
Probably a heavenly mix
Of shading, of grading
Too fine for me,
Too difficult to place the words
Accurately.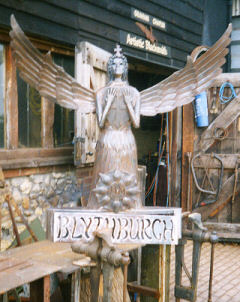 Set up near the great church,
I imagine its wings
Spread golden in a setting sun,
Its empty eyes fixed on me
As I stand and gaze
Remembering
My first vision,
My first amazed gasp.
The feathered wings,
Then as now,
About to wrap me within them.
Pulling me close,
Stopping my breath,
Closing my eyes.
Richard has also written an article about The Blythburgh Angel and how it was created.
Some Favourite Websites For July 2021:
PJN Motor Engineering – Very high quality local sevice
PJN Motor Engineering has been established in Wenhaston for many years and is based on providing a very high quality repair and maintenance service for all car and motorcycle types. Check them out if you need a quick fix or a full overhaul!
North Manor Farmhouse – Ensuite B&B accommodation in beamed Suffolk farmhouse close to the Suffolk coast and Southwold
Two B&B rooms, both with en-suite. Guest lounge with open fire. Discount for stay exceeding three nights. Sorry, dogs not accepted.
Hetty's Little Copy Shop – A wide range of printing services - including 3D - plus passport photos and more
The Little Copy Shop is in Thoroughfare, Halesworth, and offers all sorts of useful services involving printing, laminating, scanning, binding and copying plus various photographic services including passport photos.
Campsites.co.uk – A host of campsites on offer around Southwold and the Coast
Campsites.co.uk list a wide variety of camping and glamping sites throughout East Suffolk, for perfectly peaceful holidays.
Thorington Theatre – A fantastic new outdoor theatre featuring all types of live performances
Thorington Theatre is a new outside space built in the beautiful Suffolk woodland. It is constructed with the smallest carbon footprint possible. The site is a bomb crater from WWII, which left a natural amphitheatre.