Iron Angel - Blythburgh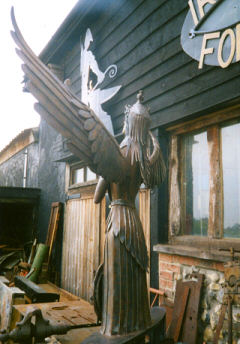 Outside a hidden foundry
The iron angel drew me to her
Magnetic gaze,
Empty eyes fastened on mine.
Metal feathers so finely beaten,
Their cold, hard touch
A surprise.
Looking soft and warm,
I could almost hear
Adjustments of feathers,
Preening and shaking
Into alignment,
Into place
Uncoloured,
Natural rusting and tempering
Had given the angel sheens,
Brown, silver, grey and rust red.
Yet I cannot truly say
What colours they were
Probably a heavenly mix
Of shading, of grading
Too fine for me,
Too difficult to place the words
Accurately.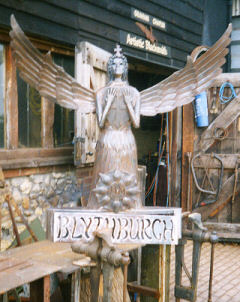 Set up near the great church,
I imagine its wings
Spread golden in a setting sun,
Its empty eyes fixed on me
As I stand and gaze
Remembering
My first vision,
My first amazed gasp.
The feathered wings,
Then as now,
About to wrap me within them.
Pulling me close,
Stopping my breath,
Closing my eyes.
Richard has also written an article about The Blythburgh Angel and how it was created.
Some Favourite Websites For January 2020:
Logs Logs Logs – Family Firm delivering kiln dried logs to Norfolk and Suffolk, including Norwich, Diss and Woodbridge
Logs available in tipper loads and bulk bags for wood burning stoves, open fires and pizza ovens. In addition supplying firewood in bulk bags to Essex, Cambridgeshire, London and beyond.
Allens Butchers – Personal service and many years of experience are the hallmarks of this outstanding local butcher
There has been a butchers shop on this site for at least 200 years. Kevin Allen, who has owned and run the shop for over 20 years, is committed to selling the best quality local produce. For this reason he buys all his meat direct from local farms.
Chris Doyle Photography – Beautiful Photos of local recent horse riding events
View extensive online galleries of recent horse shows, show jumping, cross country and other events as well as galleries of racing dogs and wildlife. Prints are available to order online.
PJN Motor Engineering – A long-established garage you can trust, Wenhaston near Halesworth
Repairs, diagnostics, servicing, MOT preparation and submission, welding, valeting and much more. All work done using high quality oils, components and accessories. Member of the Good Garage Scheme.
Leman Cottage – Intricate 17th Century house with 21st Century comforts
Comfortably Sleeping up to five, this well–equipped period cottage features a cosy woodburner and an enclosed garden as well as off road parking with good walks and local pubs nearby. 1 or 2 dogs allowed.