Iron Angel - Blythburgh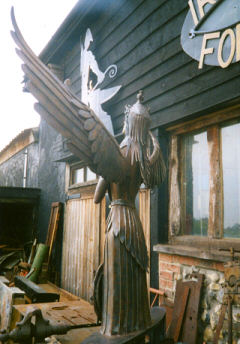 Outside a hidden foundry
The iron angel drew me to her
Magnetic gaze,
Empty eyes fastened on mine.
Metal feathers so finely beaten,
Their cold, hard touch
A surprise.
Looking soft and warm,
I could almost hear
Adjustments of feathers,
Preening and shaking
Into alignment,
Into place
Uncoloured,
Natural rusting and tempering
Had given the angel sheens,
Brown, silver, grey and rust red.
Yet I cannot truly say
What colours they were
Probably a heavenly mix
Of shading, of grading
Too fine for me,
Too difficult to place the words
Accurately.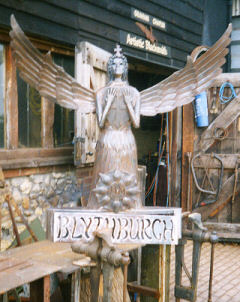 Set up near the great church,
I imagine its wings
Spread golden in a setting sun,
Its empty eyes fixed on me
As I stand and gaze
Remembering
My first vision,
My first amazed gasp.
The feathered wings,
Then as now,
About to wrap me within them.
Pulling me close,
Stopping my breath,
Closing my eyes.
Richard has also written an article about The Blythburgh Angel and how it was created.
Some Favourite Websites For May 2022:
Janet Talks – Janet is a writer and broadcaster with many years experience
Southwold 'A place to love' has almost 200 pages packed with the stories and histories behind the inscriptions on its colourful beach huts, its many benches and on those small brass plaques on Southwold pier. The stories will both delight and inform.
Southwold Model Yacht Regattas – Boating down on Southwold sea front
The Southwold Regattas are held every year on the boating lake by the pier. Events are open to all and new sailors and spectators are very welcome however new sailors should contact the committee before turning up to the event.
Singtong Neeyom Thai Restaurant – Delicious authentic Thai Cuisine
Take a look at Singtong Neeyom Thai Restaurant in the centre of Halesworth, for a range of delicious and skillfully prepared Thai dishes created by their own native Thai, Piek.
Hare Lodge Bed and Breakfast – An expansive but affordable pet friendly Bed and Breakfast
Offering four bed and breakfast rooms (two ground floor rooms with ensuite bathrooms, both with king size beds). Two rooms have the added luxury of their own lounge and kitchen with two bedrooms upstairs with views of the gardens. A fresh, delicious and locally sourced breakfast awaits you.
Chris Pretty Mountaineering – Rock Climbing/Mountaineering Instructor and International Mountain Leader
Chris aims to give you an experience which ensures you are taught to the highest national standards and to ensure that you actually learn the skills required to rock climb, trek, navigate and otherwise move around the mountainous environment autonomously. The teaching is delivered by an expert team who are tried and tested in both their personal skills and their ability to teach and ensure learning with an emphasis on personal progression.