Iron Angel - Blythburgh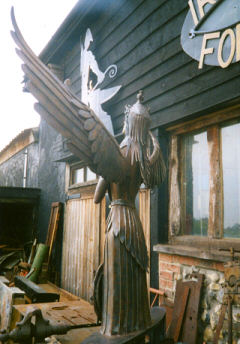 Outside a hidden foundry
The iron angel drew me to her
Magnetic gaze,
Empty eyes fastened on mine.
Metal feathers so finely beaten,
Their cold, hard touch
A surprise.
Looking soft and warm,
I could almost hear
Adjustments of feathers,
Preening and shaking
Into alignment,
Into place
Uncoloured,
Natural rusting and tempering
Had given the angel sheens,
Brown, silver, grey and rust red.
Yet I cannot truly say
What colours they were
Probably a heavenly mix
Of shading, of grading
Too fine for me,
Too difficult to place the words
Accurately.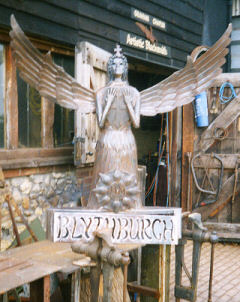 Set up near the great church,
I imagine its wings
Spread golden in a setting sun,
Its empty eyes fixed on me
As I stand and gaze
Remembering
My first vision,
My first amazed gasp.
The feathered wings,
Then as now,
About to wrap me within them.
Pulling me close,
Stopping my breath,
Closing my eyes.
Richard has also written an article about The Blythburgh Angel and how it was created.
Some Favourite Websites For October 2021:
Logs Logs Logs – Family Firm delivering kiln dried logs to Norfolk and Suffolk, including Norwich, Diss and Woodbridge
Logs available in tipper loads and bulk bags for wood burning stoves, open fires and pizza ovens. In addition supplying firewood in bulk bags to Essex, Cambridgeshire, London and beyond.
Stoneware Birds – Life-sized handmade and unique British birds, now available to buy online.
A charming unique gift or a treat for oneself. See the website to know how each one is made. Now available to buy online. Each bird is an individual creation, varying in choice from the perky wren to the plump bullfinch together with other well-loved British birds. Which will you choose?
Lighthouse View – Superb Southwold self-catering cottage for four
Lighthouse View in Southwold is a comfortable and welcoming holiday cottage sleeping four in two bedrooms. This early-Victorian cottage is in the very heart of this attractive coastal town and the front door it is just yards from the promenade and sea.
Waveney Wholesale – Suppliers of toys, novelties, giftware, china, housewares, pet items, beach goods and so much more
Established Halesworth-based suppliers with over 3000 lines stocked. On-line ordering or call and collect.
Golden Light Essences – A Gift of Transformation
Golden Light Essences comprise a range of flower and vibrational essences. These flower essences have been created to help us to understand and transform the negative beliefs we have about ourselves, and our world.