Iron Angel - Blythburgh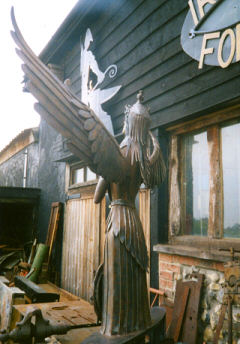 Outside a hidden foundry
The iron angel drew me to her
Magnetic gaze,
Empty eyes fastened on mine.
Metal feathers so finely beaten,
Their cold, hard touch
A surprise.
Looking soft and warm,
I could almost hear
Adjustments of feathers,
Preening and shaking
Into alignment,
Into place
Uncoloured,
Natural rusting and tempering
Had given the angel sheens,
Brown, silver, grey and rust red.
Yet I cannot truly say
What colours they were
Probably a heavenly mix
Of shading, of grading
Too fine for me,
Too difficult to place the words
Accurately.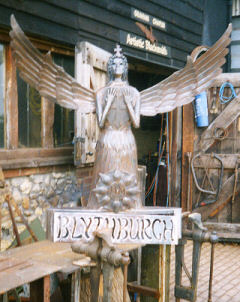 Set up near the great church,
I imagine its wings
Spread golden in a setting sun,
Its empty eyes fixed on me
As I stand and gaze
Remembering
My first vision,
My first amazed gasp.
The feathered wings,
Then as now,
About to wrap me within them.
Pulling me close,
Stopping my breath,
Closing my eyes.
Richard has also written an article about The Blythburgh Angel and how it was created.
Some Favourite Websites For April 2021:
The Halesworth Pet Store – Specialists in Animal Nutrition and Pet Care
Visit our shop or take advantage of our Free Local Delivery Service! We are experts in animal nutrition, catering for all quantities – from small bags to bulk deliveries amd we are happy to help with all of your requirements
Juliet Penwarden Coaching – Juliet Penwarden Coaching - Horse riding and care
Juliet is an experienced and qualified coach who places a strong emphasis on harmony between horse and rider and takes great pleasure in helping partnerships progress, whatever their goals.
Michael Bullen – Walberswick based watercolourist and Artist
Watercolours are a moment in time with all the depth, light and simplicity of a haiku and just as elusive. Michael's paintings and prints can be viewed at his Studio overlooking The Market Square in Halesworth.
Janet Talks – Janet is a writer and broadcaster with many years experience
Southwold 'A place to love' has almost 200 pages packed with the stories and histories behind the inscriptions on its colourful beach huts, its many benches and on those small brass plaques on Southwold pier. The stories will both delight and inform.
Logs Logs Logs – Family Firm delivering kiln dried logs to Norfolk and Suffolk, including Norwich, Diss and Woodbridge
Logs available in tipper loads and bulk bags for wood burning stoves, open fires and pizza ovens. In addition supplying firewood in bulk bags to Essex, Cambridgeshire, London and beyond.