Richard Maslen is a poet living in Blythburgh and writing poetry about and inspired by the local area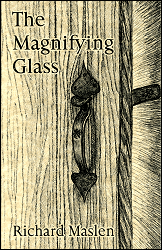 Richard arrived permanently in East Suffolk in 1986, from Nottingham via Hertfordshire. Writing since 1953, working in the South Wales docks in the R.A.F. at night began his particular love of places, people and landscape.
He is represented in many anthologies, is a prizewinning poet and recently saw his poems featured on the South Bank in London during the London Art exhibition "The Art of Love". Among the poems chosen by the Poet Laureate, Andrew Motion, was "Two Sisters" which featured on the walls of the gallery.
His work to date encompasses not only landscape but family life, love, spiritual matters and much more. His new collection "The Magnifying Glass" is quite different and, he hopes, surprising!
A Selection of Richard's Poems
Blythweb are pleased to have permission to publish here a selection of Richard Maslen's recent poems that have been inspired by and are about the landscape around Blythburgh in the Blyth Valley. Some of the poems are accompanied by Richard's photographs.
Some Favourite Websites For July 2021:
Campsites.co.uk – A host of campsites on offer around Southwold and the Coast
Campsites.co.uk list a wide variety of camping and glamping sites throughout East Suffolk, for perfectly peaceful holidays.
North Manor Farmhouse – Ensuite B&B accommodation in beamed Suffolk farmhouse close to the Suffolk coast and Southwold
Two B&B rooms, both with en-suite. Guest lounge with open fire. Discount for stay exceeding three nights. Sorry, dogs not accepted.
Thorington Theatre – A fantastic new outdoor theatre featuring all types of live performances
Thorington Theatre is a new outside space built in the beautiful Suffolk woodland. It is constructed with the smallest carbon footprint possible. The site is a bomb crater from WWII, which left a natural amphitheatre.
PJN Motor Engineering – Very high quality local sevice
PJN Motor Engineering has been established in Wenhaston for many years and is based on providing a very high quality repair and maintenance service for all car and motorcycle types. Check them out if you need a quick fix or a full overhaul!
Hetty's Little Copy Shop – A wide range of printing services - including 3D - plus passport photos and more
The Little Copy Shop is in Thoroughfare, Halesworth, and offers all sorts of useful services involving printing, laminating, scanning, binding and copying plus various photographic services including passport photos.