Richard Maslen is a poet living in Blythburgh and writing poetry about and inspired by the local area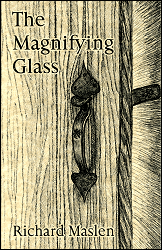 Richard arrived permanently in East Suffolk in 1986, from Nottingham via Hertfordshire. Writing since 1953, working in the South Wales docks in the R.A.F. at night began his particular love of places, people and landscape.
He is represented in many anthologies, is a prizewinning poet and recently saw his poems featured on the South Bank in London during the London Art exhibition "The Art of Love". Among the poems chosen by the Poet Laureate, Andrew Motion, was "Two Sisters" which featured on the walls of the gallery.
His work to date encompasses not only landscape but family life, love, spiritual matters and much more. His new collection "The Magnifying Glass" is quite different and, he hopes, surprising!
A Selection of Richard's Poems
Blythweb are pleased to have permission to publish here a selection of Richard Maslen's recent poems that have been inspired by and are about the landscape around Blythburgh in the Blyth Valley. Some of the poems are accompanied by Richard's photographs.
Some Favourite Websites For February 2020:
Symon Clarke Composer – Acclaimed classic and ensemble music
Symon Clarke has composed acclaimed music for a wide range of classical ensembles and soloists and created a body of original music for Javanese and Balinese gamelan. His works have been played by well-known performers around the UK and abroad.
Hare Lodge Bed and Breakfast – An expansive but affordable pet friendly Bed and Breakfast
Offering four bed and breakfast rooms (two ground floor rooms with ensuite bathrooms, both with king size beds). Two rooms have the added luxury of their own lounge and kitchen with two bedrooms upstairs with views of the gardens. A fresh, delicious and locally sourced breakfast awaits you.
PJN Motor Engineering – A long-established garage you can trust, Wenhaston near Halesworth
Repairs, diagnostics, servicing, MOT preparation and submission, welding, valeting and much more. All work done using high quality oils, components and accessories. Member of the Good Garage Scheme.
Holly Cottage – Chalet bungalow in Southwold just two minutes from the beach. Option to also hire beach hut
Sleeping up to six and with an enclosed garden. WiFi. Close to beach and town. Available all year.
Woodside Barn – Skilful conversion of a Grade II listed timber-framed barn close to Aldeburgh, for up to Six
Children and well-behaved pets welcome. Downstairs bedroom with wet room. All bedrooms en-suite. WiFi. Outside space.