Richard Maslen is a poet living in Blythburgh and writing poetry about and inspired by the local area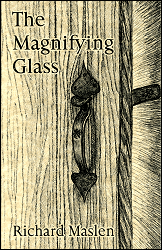 Richard arrived permanently in East Suffolk in 1986, from Nottingham via Hertfordshire. Writing since 1953, working in the South Wales docks in the R.A.F. at night began his particular love of places, people and landscape.
He is represented in many anthologies, is a prizewinning poet and recently saw his poems featured on the South Bank in London during the London Art exhibition "The Art of Love". Among the poems chosen by the Poet Laureate, Andrew Motion, was "Two Sisters" which featured on the walls of the gallery.
His work to date encompasses not only landscape but family life, love, spiritual matters and much more. His new collection "The Magnifying Glass" is quite different and, he hopes, surprising!
A Selection of Richard's Poems
Blythweb are pleased to have permission to publish here a selection of Richard Maslen's recent poems that have been inspired by and are about the landscape around Blythburgh in the Blyth Valley. Some of the poems are accompanied by Richard's photographs.
Some Favourite Websites For October 2021:
Stoneware Birds – Life-sized handmade and unique British birds, now available to buy online.
A charming unique gift or a treat for oneself. See the website to know how each one is made. Now available to buy online. Each bird is an individual creation, varying in choice from the perky wren to the plump bullfinch together with other well-loved British birds. Which will you choose?
Lighthouse View – Superb Southwold self-catering cottage for four
Lighthouse View in Southwold is a comfortable and welcoming holiday cottage sleeping four in two bedrooms. This early-Victorian cottage is in the very heart of this attractive coastal town and the front door it is just yards from the promenade and sea.
Logs Logs Logs – Family Firm delivering kiln dried logs to Norfolk and Suffolk, including Norwich, Diss and Woodbridge
Logs available in tipper loads and bulk bags for wood burning stoves, open fires and pizza ovens. In addition supplying firewood in bulk bags to Essex, Cambridgeshire, London and beyond.
Waveney Wholesale – Suppliers of toys, novelties, giftware, china, housewares, pet items, beach goods and so much more
Established Halesworth-based suppliers with over 3000 lines stocked. On-line ordering or call and collect.
Golden Light Essences – A Gift of Transformation
Golden Light Essences comprise a range of flower and vibrational essences. These flower essences have been created to help us to understand and transform the negative beliefs we have about ourselves, and our world.