Richard Maslen is a poet living in Blythburgh and writing poetry about and inspired by the local area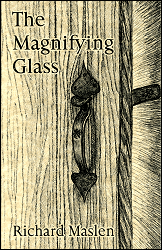 Richard arrived permanently in East Suffolk in 1986, from Nottingham via Hertfordshire. Writing since 1953, working in the South Wales docks in the R.A.F. at night began his particular love of places, people and landscape.
He is represented in many anthologies, is a prizewinning poet and recently saw his poems featured on the South Bank in London during the London Art exhibition "The Art of Love". Among the poems chosen by the Poet Laureate, Andrew Motion, was "Two Sisters" which featured on the walls of the gallery.
His work to date encompasses not only landscape but family life, love, spiritual matters and much more. His new collection "The Magnifying Glass" is quite different and, he hopes, surprising!
A Selection of Richard's Poems
Blythweb are pleased to have permission to publish here a selection of Richard Maslen's recent poems that have been inspired by and are about the landscape around Blythburgh in the Blyth Valley. Some of the poems are accompanied by Richard's photographs.
Some Favourite Websites For June 2019:
Stoneware Birds – Life-sized handmade and unique British birds, now available to buy online.
A charming unique gift or a treat for oneself. See the website to know how each one is made. Now available to buy online. Each bird is an individual creation, varying in choice from the perky wren to the plump bullfinch together with other well-loved British birds. Which will you choose?
Chris Pretty Mountaineering – Rock Climbing/Mountaineering Instructor and International Mountain Leader
Chris aims to give you an experience which ensures you are taught to the highest national standards and to ensure that you actually learn the skills required to rock climb, trek, navigate and otherwise move around the mountainous environment autonomously. The teaching is delivered by an expert team who are tried and tested in both their personal skills and their ability to teach and ensure learning with an emphasis on personal progression.
Rookyard Cottage, Holton – Eco-friendly self-catering cottage near Halesworth with private heated indoor swimming pool available
Set in over two acres Valley Farm offers two self-catering cottages, Rookyard Cottage and Swallow Barn, both with eco-friendly features and each sleeping up to four people + cot. Rated AA 4 Stars. WiFi. Private heated indoor swimming pool available. Ten miles from seaside at Southwold. Pets not accepted.
Lima Cottage Flat – A spacious get-away retreat for two, in the heart of Walberswick, close to the beach and the village green
Situated in the picturesque coastal village of Walberswick, Lima Cottage is a self contained, self catering, first floor holiday flat. This holiday home - sleeping two - is close to the beach, local pubs and gift shops.
Singtong Neeyom Thai Restaurant – Delicious authentic Thai Cuisine
Take a look at Singtong Neeyom Thai Restaurant in the centre of Halesworth, for a range of delicious and skillfully prepared Thai dishes created by their own native Thai, Piek.