Richard Maslen is a poet living in Blythburgh and writing poetry about and inspired by the local area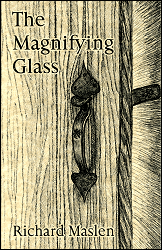 Richard arrived permanently in East Suffolk in 1986, from Nottingham via Hertfordshire. Writing since 1953, working in the South Wales docks in the R.A.F. at night began his particular love of places, people and landscape.
He is represented in many anthologies, is a prizewinning poet and recently saw his poems featured on the South Bank in London during the London Art exhibition "The Art of Love". Among the poems chosen by the Poet Laureate, Andrew Motion, was "Two Sisters" which featured on the walls of the gallery.
His work to date encompasses not only landscape but family life, love, spiritual matters and much more. His new collection "The Magnifying Glass" is quite different and, he hopes, surprising!
A Selection of Richard's Poems
Blythweb are pleased to have permission to publish here a selection of Richard Maslen's recent poems that have been inspired by and are about the landscape around Blythburgh in the Blyth Valley. Some of the poems are accompanied by Richard's photographs.
Some Favourite Websites For December 2018:
Singtong Neeyom Thai Restaurant – Delicious authentic Thai Cuisine
Take a look at Singtong Neeyom Thai Restaurant in the centre of Halesworth, for a range of delicious and skillfully prepared Thai dishes created by their own native Thai, Piek.
Valley Farm – A large family farmhouse in Walberswick
A Grade II listed farmhouse for up to 11, plus 2 cots, with amazing views across the marshes to the sea.
Hetty's Little Copy Shop – A wide range of printing services - including 3D - plus passport photos and more
The Little Copy Shop is in Thoroughfare, Halesworth, and offers all sorts of useful services involving printing, laminating, scanning, binding and copying plus various photographic services including passport photos.
Victoria Cottage – Centrally-located Southwold Cottage for Two, plus up to two dogs at no extra charge
Just minutes from Southwold's seafront, High Street, pubs and pier, this Victorian cottage has views of Southwold's iconic lighthouse from the upstairs day room and the charming rear courtyard. WiFi. Up to two well-behaved dogs welcome. Summer weeks and flexible breaks available.
Stoneware Birds – Life-sized handmade and unique British birds, now available to buy online.
A charming unique gift or a treat for oneself. See the website to know how each one is made. Now available to buy online. Each bird is an individual creation, varying in choice from the perky wren to the plump bullfinch together with other well-loved British birds. Which will you choose?