Minor Hero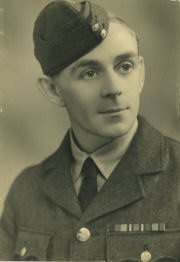 Remembering years ago
When all was taut and smiling.
Sepia photographs from India,
Smartly uniformed,
Brilliantined for posterity,
Mentioned in Despatches
Lifetimes ago.
He's fighting now the old enemy
Who comes for everyman.
Old age and uncertainty
Combined to bring him down,
Fetching him up
In this quiet world
Where heroes are made
Every day.
Silent struggles
Against the awkwardness
And unalleviated pain.
So now that smart airman
Has crashed
in the desert of the wards
His rescuers unaware
Of the minor hero in their midst
Survivor from the heat of India,
Immobilised by ill-fortune
In this artificial womb,
Amidst the detritus
of smaller wars
Whose end is conjecture,
Veiled and secret.
By Richard Maslen.
In Memoriam John Samuel Holden
1939 - 1945. died 20.1.1996
Some Favourite Websites For August 2022:
The Southwold Railway Trust – Open days at the Southwold Railway Steamworks project
The Southwold Railway was a 3-foot gauge line running between Halesworth and Southwold, a distance of almost 9 miles. Opened in 1879 and closed in 1929, it is remembered for its tall-chimneyed steam engines. The Steamworks project aims to restore this line.
Symon Clarke Composer – Acclaimed classic and ensemble music
Symon Clarke has composed acclaimed music for a wide range of classical ensembles and soloists and created a body of original music for Javanese and Balinese gamelan. His works have been played by well-known performers around the UK and abroad.
Halesworth Millennium Green – The largest Millennium Green in England
Halesworth Millennium Green is a magical place to explore in all seasons and weathers. Come and find your favourite corner amongst the meadows, woodlands, rivers, ponds, heathland, orchard and along the historic route of the old railway and the even older navigation.
Green Haven Holidays – Caravan and Camping Site near Halesworth
Stuart and Katherine have enthusiastically established their campsite in the village of Rumburgh just north of Halesworth. From the outset they were keen that this would be an eco-friendly business and are open from April until early October.
8 The Terrace, Walberswick – Family House in Walberswick for Seven, with WiFi. Own Parking
An Edwardian end of terrace self-catering family house sleeping seven, centrally situated in Walberswick, with own parking for two cars plus bicycle storage. Four bedrooms, original features, well-equipped. Just minutes from beach, shop, village green and handy for both village pubs. House available all year with short breaks available out of season.