Naiad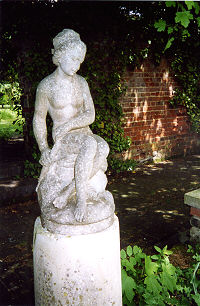 It's that air you have.
That air of resignation.
Knowledge that you are fixed;
Masons pleased,
Lord and Ladyship thrilled
At their naiad.
And in your subdued gaze,
What do you see?
Lichen blurring your outline.
Imperfect now
Yet still powerful
If you like statues,
Especially naiads
With that air of resignation.
Look up.
You could be lovely!

The Forgotten Gardens of Easton Lodge.
Back to the Richard Maslen Poem List
Some Favourite Websites For August 2022:
8 The Terrace, Walberswick – Family House in Walberswick for Seven, with WiFi. Own Parking
An Edwardian end of terrace self-catering family house sleeping seven, centrally situated in Walberswick, with own parking for two cars plus bicycle storage. Four bedrooms, original features, well-equipped. Just minutes from beach, shop, village green and handy for both village pubs. House available all year with short breaks available out of season.
Halesworth Millennium Green – The largest Millennium Green in England
Halesworth Millennium Green is a magical place to explore in all seasons and weathers. Come and find your favourite corner amongst the meadows, woodlands, rivers, ponds, heathland, orchard and along the historic route of the old railway and the even older navigation.
Symon Clarke Composer – Acclaimed classic and ensemble music
Symon Clarke has composed acclaimed music for a wide range of classical ensembles and soloists and created a body of original music for Javanese and Balinese gamelan. His works have been played by well-known performers around the UK and abroad.
Green Haven Holidays – Caravan and Camping Site near Halesworth
Stuart and Katherine have enthusiastically established their campsite in the village of Rumburgh just north of Halesworth. From the outset they were keen that this would be an eco-friendly business and are open from April until early October.
The Southwold Railway Trust – Open days at the Southwold Railway Steamworks project
The Southwold Railway was a 3-foot gauge line running between Halesworth and Southwold, a distance of almost 9 miles. Opened in 1879 and closed in 1929, it is remembered for its tall-chimneyed steam engines. The Steamworks project aims to restore this line.