Cleo at the Great North Door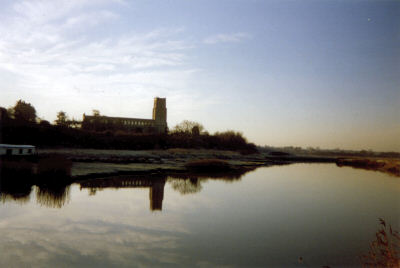 The moon, a thin crescent, lit from within.
To the Eastward, The Plough, bright in deep space
And now here, the White Hart, whose yellow lights
Resemble a cruise liner out at sea.
Our White Hart, his slim neck collared with gold,
Badge of some noble line I do not know,
Glistening in the night, his status supreme
In his niche above the Prior's Courtroom,
So long ago, those days, when he was fixed.
The Hart watches us unblinking, head up,
Gold coronet, rich necklace, staring out.
Only our tall angel above our heads
Has some of his power, empty eye sockets
Looking over us all, into our eyes.
Her fierce face deflecting questions. Just look,
She says, look at my face and the White Hart,
Symbols of then and now, calling us all,
Requiring our attention and our love.
17th December 2006
By Richard Maslen (click to go back).
(White Hart with gold coronet: Badge of King Richard the Second, Blythburgh Suffolk)
Some Favourite Websites For January 2020:
PJN Motor Engineering – A long-established garage you can trust, Wenhaston near Halesworth
Repairs, diagnostics, servicing, MOT preparation and submission, welding, valeting and much more. All work done using high quality oils, components and accessories. Member of the Good Garage Scheme.
Chris Doyle Photography – Beautiful Photos of local recent horse riding events
View extensive online galleries of recent horse shows, show jumping, cross country and other events as well as galleries of racing dogs and wildlife. Prints are available to order online.
Allens Butchers – Personal service and many years of experience are the hallmarks of this outstanding local butcher
There has been a butchers shop on this site for at least 200 years. Kevin Allen, who has owned and run the shop for over 20 years, is committed to selling the best quality local produce. For this reason he buys all his meat direct from local farms.
Logs Logs Logs – Family Firm delivering kiln dried logs to Norfolk and Suffolk, including Norwich, Diss and Woodbridge
Logs available in tipper loads and bulk bags for wood burning stoves, open fires and pizza ovens. In addition supplying firewood in bulk bags to Essex, Cambridgeshire, London and beyond.
Leman Cottage – Intricate 17th Century house with 21st Century comforts
Comfortably Sleeping up to five, this well–equipped period cottage features a cosy woodburner and an enclosed garden as well as off road parking with good walks and local pubs nearby. 1 or 2 dogs allowed.