Cleo at the Great North Door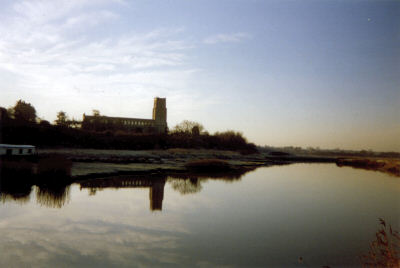 The moon, a thin crescent, lit from within.
To the Eastward, The Plough, bright in deep space
And now here, the White Hart, whose yellow lights
Resemble a cruise liner out at sea.
Our White Hart, his slim neck collared with gold,
Badge of some noble line I do not know,
Glistening in the night, his status supreme
In his niche above the Prior's Courtroom,
So long ago, those days, when he was fixed.
The Hart watches us unblinking, head up,
Gold coronet, rich necklace, staring out.
Only our tall angel above our heads
Has some of his power, empty eye sockets
Looking over us all, into our eyes.
Her fierce face deflecting questions. Just look,
She says, look at my face and the White Hart,
Symbols of then and now, calling us all,
Requiring our attention and our love.
17th December 2006
By Richard Maslen (click to go back).
(White Hart with gold coronet: Badge of King Richard the Second, Blythburgh Suffolk)
Some Favourite Websites For August 2022:
Halesworth Millennium Green – The largest Millennium Green in England
Halesworth Millennium Green is a magical place to explore in all seasons and weathers. Come and find your favourite corner amongst the meadows, woodlands, rivers, ponds, heathland, orchard and along the historic route of the old railway and the even older navigation.
Green Haven Holidays – Caravan and Camping Site near Halesworth
Stuart and Katherine have enthusiastically established their campsite in the village of Rumburgh just north of Halesworth. From the outset they were keen that this would be an eco-friendly business and are open from April until early October.
Symon Clarke Composer – Acclaimed classic and ensemble music
Symon Clarke has composed acclaimed music for a wide range of classical ensembles and soloists and created a body of original music for Javanese and Balinese gamelan. His works have been played by well-known performers around the UK and abroad.
The Southwold Railway Trust – Open days at the Southwold Railway Steamworks project
The Southwold Railway was a 3-foot gauge line running between Halesworth and Southwold, a distance of almost 9 miles. Opened in 1879 and closed in 1929, it is remembered for its tall-chimneyed steam engines. The Steamworks project aims to restore this line.
8 The Terrace, Walberswick – Family House in Walberswick for Seven, with WiFi. Own Parking
An Edwardian end of terrace self-catering family house sleeping seven, centrally situated in Walberswick, with own parking for two cars plus bicycle storage. Four bedrooms, original features, well-equipped. Just minutes from beach, shop, village green and handy for both village pubs. House available all year with short breaks available out of season.