Undine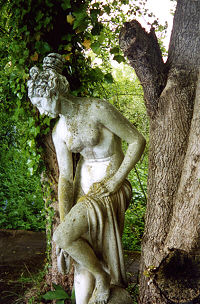 Stone lady,
Why look so downcast?
Is he there
But taking no notice?
Is it your nakedness
Before entering the water?
Is it your drapery.
Concealing as you emerge?
Only stand
And he will notice you.
Look up.
You could be lovely!

The Forgotten Gardens of Easton Lodge.
From "A Kind Of Heaven" by Richard Maslen
Some Favourite Websites For May 2021:
Green Haven Holidays – Caravan and Camping Site near Halesworth
Stuart and Katherine have enthusiastically established their campsite in the village of Rumburgh just north of Halesworth. From the outset they were keen that this would be an eco-friendly business. Village CAMRA pub close by. Re-opened on 1st May for the 2015 season.
Juliet Penwarden Coaching – Juliet Penwarden Coaching - Horse riding and care
Juliet is an experienced and qualified coach who places a strong emphasis on harmony between horse and rider and takes great pleasure in helping partnerships progress, whatever their goals.
Cranbourne, Walberswick – Luzury Self Catering cottage on the Heritage Coast with it's own swimming pool
Cranbourne is tucked in a peaceful corner of Manor Close with the excellent village shop nearby and central to Walberswick making all the attractions within easy walking. A heated outdoor swimming pool for summer use is protected by a lockable gate. Without detracting from the house in any way, Cranbourne unobtrusively includes features enabling less mobile visitors to equally enjoy their stay.
Michael Bullen – Walberswick based watercolourist and Artist
Watercolours are a moment in time with all the depth, light and simplicity of a haiku and just as elusive. Michael's paintings and prints can be viewed at his Studio overlooking The Market Square in Halesworth.
The Halesworth Pet Store – Specialists in Animal Nutrition and Pet Care
Visit our shop or take advantage of our Free Local Delivery Service! We are experts in animal nutrition, catering for all quantities – from small bags to bulk deliveries amd we are happy to help with all of your requirements