Wreck at Benacre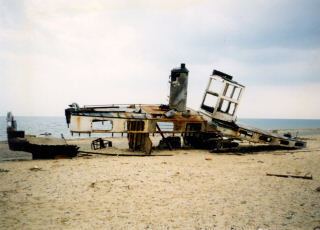 On the beach,
Sideways and hull-down,
Trying hard in the Winter sun
To gleam and be alive,
A strange boat
Stranded in the storm,
Gradually tilts and gives up hope.
One thin line
Strains to the hidden anchor
Just off-shore.
The screw has gone,
Small splits appear,
Sprung boards allow the salt water
A first, tentative grip,
Bringing her to her knees
On the beach.
Foreign, she is,
From up the coast.
Compact, head-butting
And easily rolling
Over the unforgiving
North Sea's tricky underwater map.
Shifting sand,
Covering and uncovering
Rusting defences
Slowly eroding in the salt water.
Either the sea,
Intolerant of error,
Will break her
Or the salvage crew,
Wearily tramping the sand,
Will take her.
Slowly stripping her bare,
Her interior secrets
Exposed and vulnerable.
Next week, next month,
The beach will have returned
To wildness and to peace.
A place of detritus,
The bones of fish,
Dead gulls and trees
Along the littoral.
From "A Kind Of Heaven" by Richard Maslen.
Some Favourite Websites For June 2020:
CICO Chimney and Fireplace Services – Taking pride in providing a perfect chimney lining and fire prevention service
As one of the largest networks of chimney lining installers in the UK, CICO chimneys offer advice and solutions to individuals and trade. Since the early 1980's CICO chimney linings have continually developed a service and product that have been approved and recognised by many professionals as well as the general public.
Golden Light Essences – A Gift of Transformation
Golden Light Essences comprise a range of flower and vibrational essences. These flower essences have been created to help us to understand and transform the negative beliefs we have about ourselves, and our world.
Stoneware Birds – Life-sized handmade and unique British birds, now available to buy online.
A charming unique gift or a treat for oneself. See the website to know how each one is made. Now available to buy online. Each bird is an individual creation, varying in choice from the perky wren to the plump bullfinch together with other well-loved British birds. Which will you choose?
Andy Seedhouse Boats – Andy Seedhouse Boats, Woodbridge - Boat Sales
A friendly and professional family-run business with an old-fashioned approach to customer service, located on the picturesque waterfront at Woodbridge on the River Deben. From dinghies and day boats to fishing boats and yachts, and even including liveaboard boats too, Andy brings his many years of experience in helping his customers buy and sell. Also chandlery, trailers, etc.
PJN Motor Engineering – Very high quality local sevice
PJN Motor Engineering has been established in Wenhaston for many years and is based on providing a very high quality repair and maintenance service for all car and motorcycle types. Check them out if you need a quick fix or a full overhaul!