Wreck at Benacre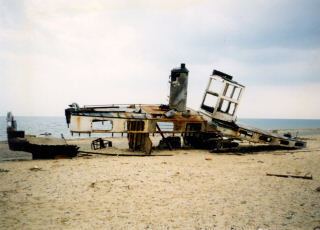 On the beach,
Sideways and hull-down,
Trying hard in the Winter sun
To gleam and be alive,
A strange boat
Stranded in the storm,
Gradually tilts and gives up hope.
One thin line
Strains to the hidden anchor
Just off-shore.
The screw has gone,
Small splits appear,
Sprung boards allow the salt water
A first, tentative grip,
Bringing her to her knees
On the beach.
Foreign, she is,
From up the coast.
Compact, head-butting
And easily rolling
Over the unforgiving
North Sea's tricky underwater map.
Shifting sand,
Covering and uncovering
Rusting defences
Slowly eroding in the salt water.
Either the sea,
Intolerant of error,
Will break her
Or the salvage crew,
Wearily tramping the sand,
Will take her.
Slowly stripping her bare,
Her interior secrets
Exposed and vulnerable.
Next week, next month,
The beach will have returned
To wildness and to peace.
A place of detritus,
The bones of fish,
Dead gulls and trees
Along the littoral.
From "A Kind Of Heaven" by Richard Maslen.
Some Favourite Websites For September 2019:
Michael Bullen – Walberswick based watercolourist and Artist
Watercolours are a moment in time with all the depth, light and simplicity of a haiku and just as elusive. Michael's paintings and prints can be viewed at his Studio overlooking The Market Square in Halesworth.
Green Haven Holidays – Caravan and Camping Site near Halesworth
Stuart and Katherine have enthusiastically established their campsite in the village of Rumburgh just north of Halesworth. From the outset they were keen that this would be an eco-friendly business. Village CAMRA pub close by. Re-opened on 1st May for the 2015 season.
Poachers Cottage – Poacher's Cottage, Halesworth - Charming self-catering accommodation for three (plus cot) with beach hut option
A welcoming and charming one-bedroomed cottage, with space for a cot. Additional single sofa-bed. Highchair available. This cosy cottage is in a Conservation Area in a street of other interesting period cottages, yet countryside walks start opposite the front door. Stroll to the Market Place and the pedestrianised Thoroughfare. Just ten miles to the coast at Southwold where you have the option of renting a beach hut which is in the same ownership.
Chris Doyle Photography – Beautiful Photos of local recent horse riding events
View extensive online galleries of recent horse shows, show jumping, cross country and other events as well as galleries of racing dogs and wildlife. Prints are available to order online.
Golden Light Essences – A Gift of Transformation
Golden Light Essences comprise a range of flower and vibrational essences. These flower essences have been created to help us to understand and transform the negative beliefs we have about ourselves, and our world.