Wreck at Benacre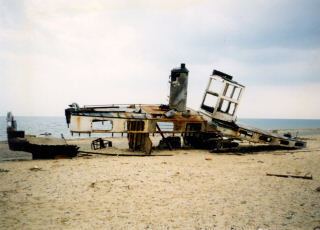 On the beach,
Sideways and hull-down,
Trying hard in the Winter sun
To gleam and be alive,
A strange boat
Stranded in the storm,
Gradually tilts and gives up hope.
One thin line
Strains to the hidden anchor
Just off-shore.
The screw has gone,
Small splits appear,
Sprung boards allow the salt water
A first, tentative grip,
Bringing her to her knees
On the beach.
Foreign, she is,
From up the coast.
Compact, head-butting
And easily rolling
Over the unforgiving
North Sea's tricky underwater map.
Shifting sand,
Covering and uncovering
Rusting defences
Slowly eroding in the salt water.
Either the sea,
Intolerant of error,
Will break her
Or the salvage crew,
Wearily tramping the sand,
Will take her.
Slowly stripping her bare,
Her interior secrets
Exposed and vulnerable.
Next week, next month,
The beach will have returned
To wildness and to peace.
A place of detritus,
The bones of fish,
Dead gulls and trees
Along the littoral.
From "A Kind Of Heaven" by Richard Maslen.
Some Favourite Websites For September 2021:
Golden Light Essences – A Gift of Transformation
Golden Light Essences comprise a range of flower and vibrational essences. These flower essences have been created to help us to understand and transform the negative beliefs we have about ourselves, and our world.
Waveney Wholesale – Suppliers of toys, novelties, giftware, china, housewares, pet items, beach goods and so much more
Established Halesworth-based suppliers with over 3000 lines stocked. On-line ordering or call and collect.
Stoneware Birds – Life-sized handmade and unique British birds, now available to buy online.
A charming unique gift or a treat for oneself. See the website to know how each one is made. Now available to buy online. Each bird is an individual creation, varying in choice from the perky wren to the plump bullfinch together with other well-loved British birds. Which will you choose?
Lighthouse View – Superb Southwold self-catering cottage for four
Lighthouse View in Southwold is a comfortable and welcoming holiday cottage sleeping four in two bedrooms. This early-Victorian cottage is in the very heart of this attractive coastal town and the front door it is just yards from the promenade and sea.
Logs Logs Logs – Family Firm delivering kiln dried logs to Norfolk and Suffolk, including Norwich, Diss and Woodbridge
Logs available in tipper loads and bulk bags for wood burning stoves, open fires and pizza ovens. In addition supplying firewood in bulk bags to Essex, Cambridgeshire, London and beyond.