Richard Maslen is a poet living in Blythburgh and writing poetry about and inspired by the local area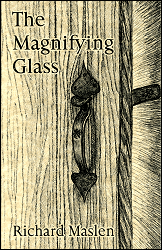 Richard arrived permanently in East Suffolk in 1986, from Nottingham via Hertfordshire. Writing since 1953, working in the South Wales docks in the R.A.F. at night began his particular love of places, people and landscape.
He is represented in many anthologies, is a prizewinning poet and recently saw his poems featured on the South Bank in London during the London Art exhibition "The Art of Love". Among the poems chosen by the Poet Laureate, Andrew Motion, was "Two Sisters" which featured on the walls of the gallery.
His work to date encompasses not only landscape but family life, love, spiritual matters and much more. His new collection "The Magnifying Glass" is quite different and, he hopes, surprising!
A Selection of Richard's Poems
Blythweb are pleased to have permission to publish here a selection of Richard Maslen's recent poems that have been inspired by and are about the landscape around Blythburgh in the Blyth Valley. Some of the poems are accompanied by Richard's photographs.
Some Favourite Websites For June 2022:
Southwold Beach Hut Owners Association – The online home of the owners of Southwold's iconic beach huts
On this website are details of the Southwold Beach Hut Owners Association group as well as the latest news and information for prospective, new and existing members, owning a tiny slice of our wonderful Suffolk coastline.
Chris Doyle Photography – Beautiful Photos of local nature and recent horse riding events
View extensive online galleries of recent horse shows, show jumping, cross country and other events as well as galleries of local wildlife. Prints are available to order online.
Woodside Barn – Skilful conversion of a Grade II listed timber-framed barn close to Aldeburgh, for up to Six
Children and well-behaved pets welcome. Downstairs bedroom with wet room. All bedrooms en-suite. WiFi. Outside space.
The Halesworth Pet Store – Specialists in Animal Nutrition and Pet Care
Visit our shop or take advantage of our Free Local Delivery Service! We are experts in animal nutrition, catering for all quantities – from small bags to bulk deliveries amd we are happy to help with all of your requirements
Halesworth Stationers – For all your personal and business stationary needs
Now under new ownership, The Halesworth Stationers is a treasure trove of office, stationary and art and craft supplies along with Inkjet Cartridges & Computer Accessories. Halesworth Stationers are now open with appropriate spacing and Covid-19 precautions